Brighton rotate a lot. It's as true as the sun rising, and led me to this wonderful joke.
What's the difference between De Zerbi and a punctured tyre? Only one rotates and goes out of his way to annoy you. Unless your kids are in the car, in which case, good luck.
But surely, in a fixture run consisting of FUL, eve, SHU, nfo, che, BRE, BUR, there's someone to invest in? Well, that's what I'm here to tell you about.
Before I begin, I urge you to check out the (free) LazyFPL Newsletter. All the important information comes straight to your inbox 24 hours before the deadline. Free green arrows, even greener than Brighton's fixtures.
Solly March
Don't we all love the calendar? It turns out Bernardo Silva isn't a fan of March, though. Implications of Solly's March's knock:
Solly March was stretchered off in the 89th minute vs. Manchester City. His immediate screaming of "my knee" has led many people to hypothesise that he has torn his ACL.
Ouch. Or, in FPL lingo, opportunity.
Sure, he played as a left-back on Saturday, but his primary position is on the right-wing. What does this mean? Well, let's look at the most natural replacement.
Simon Adingra
Meet Simon Adingra (£5.0).
Who, coincidentally, is my top differential pick for GW10.
Simon Adingra is Brighton's reply to Kaoru Mitoma. Talk about forward planning, eh?
He's currently the only natural right winger available to De Zerbi, aside from Facundo Buonanotte, who is still too raw to play in the top flight.
0.4% owned and still under the radar due to Cole Palmer's 0.79 xG exploits, Adingra is currently averaging an npxG+xAG of 0.44/90 in the Premier League and would be my pick of the mids below £5.5m for the next 5 GWs.
Any longer, and I prefer Palmer.
3 goal contributions in 4 starts (8 appearances), relatively safe xMins, and a way to flex over your uninformed friends, who don't seem to want a way to win more by doing less.
Smh, that could never be me. So, let LazyFPL do the work for you, like they have 46,000+ FPL managers.
Karou Mitoma
Is Adingra too spicy for you?
If a safety net is what you like, then don't look beyond Kaoru Mitoma (£6.5). In relative terms, he's Brighton's most nailed attacker and has averaged 83.9 minutes across all 9 of Brighton's Premier League games.
| | | |
| --- | --- | --- |
| Player | Apps | Avg Mins |
| Dunk | 9 | 90 |
| Groß | 7 | 88.3 |
| Mitoma | 9 | 83.9 |
| Estupiñán | 6 | 82.5 |
| Pedro | 9 | 53.4 |
| Adingra | 8 | 52.1 |
| Ferguson | 9 | 48.6 |
| Buonanotte | 1 | 45 |
| Fati | 5 | 28.8 |
Not to mention, his xG+xA (4.4) exceeds Álvarez, Núñez, and Callum Wilson, and he has 6 attacking returns already.
He may get the odd benching, but the last time he did, he scored 2 goals coming off the bench. 45 minutes, 14 points. Not bad, Kaoru. An easy Ward-Prowse, Neto, Gordon, Mbeumo and even Diaby alternative.
Lewis Dunk
This is one of those "hear me out" moments. None of the goalkeepers are nailed, and neither are the full-backs.
Well, Estupiñán would have been, but he's only just started individual training – I expect a return around GW 11 or 12.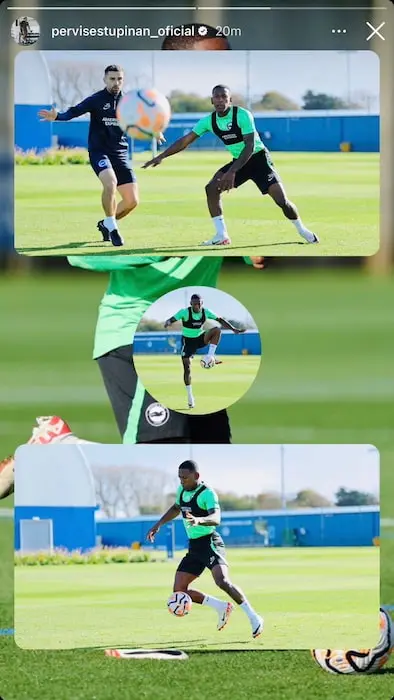 So why risk missing FUL, eve, SHU, when you have a man whose middle name is Carl? When he's fit, he's started in the league and should always do so.
Brighton's defence is poor; they're the 8th worst for xGA, but De Zerbi knows this. In fact, look at what he said ahead of Man City (A):
"My focus is on the clean sheet. I feel pain when I watch the goals we are conceding."

De Zerbi
What does this mean? Well, Dunk is an easy way out of your City defenders, or of Botman Returns.
Pascal Groß
I wouldn't rule out Pascal Groß (£6.3) either. The FPL sphere has a habit of disregarding DMs, and for good reason (sorry, Kante), but Groß often plays as an 8 with late runs into the box.
This is especially true if Baleba plays; Groß should be more advanced and up his npxG+xAG of 0.34.
He'll tick over nicely—like a less claret, more German James Ward Prowse.
FPL Review loves him too; he has the highest EV (predicted points) out of any player from Brighton over the next 12 gameweeks (analytics nerd, I know, I know).
Evan Ferguson
You thought I forgot about you, didn't you, Irishmen?
How can we not talk about the new messiah, Evan Ferguson? With Welbeck missing for a while, he's now Brighton's senior-most no. 9. Yet, he's only 19. Chelsea are licking their lips as we speak.
Don't be scared by his minutes (or lack thereof) until now; lady luck wasn't on his side as injuries left him on the sidelines.
But now we have a fully fit, £6.0 forward who's notched up an npxG+xAG of 0.60/90. A four-leafed clover would accompany his four goals nicely.
João Pedro and Ansu Fati
In a team with so much quality, there are bound to be more options. João Pedro's minutes should be good on paper, but they're heavily influenced by his minutes midweek.
I believe he'll occasionally play 80 minutes in the Premier League and sometimes 30. Essentially, it'll fluctuate more than my mood, following the biggest red arrow imaginable—hope, denial, numbness, anyone?
Ansu Fati could also be explosive, but I wouldn't be honest if I told you I was confident in his xMins. If an option does arrive, I'll be back to tell you next week on FPL Tips. So, you know, look out for that.
Who is the best Brighton asset for FPL?
Considering my thoughts above and how comfortable I would be if I owned them, as well as accounting for xMins and points potential, this is how I would rate the Brighton assets:
Mitoma
Adingra/Dunk
Groß/Ferguson/Pedro
Sources:
Data involving npxG+xAG – Fbref
Data involving xG+xA/G+A – Fotmob
More Gameweek 10 FPL Tips:
Differential Picks For FPL Gameweek 10
Captain Picks For FPL Gameweek 10
Wildcard Tips For FPL Gameweek 10