Looking for some FPL team name ideas? Well you're in the right place!
Our list of the best FPL team names includes over 100 different names for your fantasy football teams, including everything from rude FPL team names to movie references, and everything in between.
We plan to continue adding the best FPL team names to this list ahead of FPL 2023-24.
Check out our list of Free Entry FPL Mini Leagues With Cash Prizes!
Free FPL Newsletter
If we could only give you 1 piece of advice ahead of Gameweek 2 it would be to subscribe to Lazy FPL. They condense hours of expert Fantasy Premier League research into a 4-min email sent 24 hours before every gameweek deadline.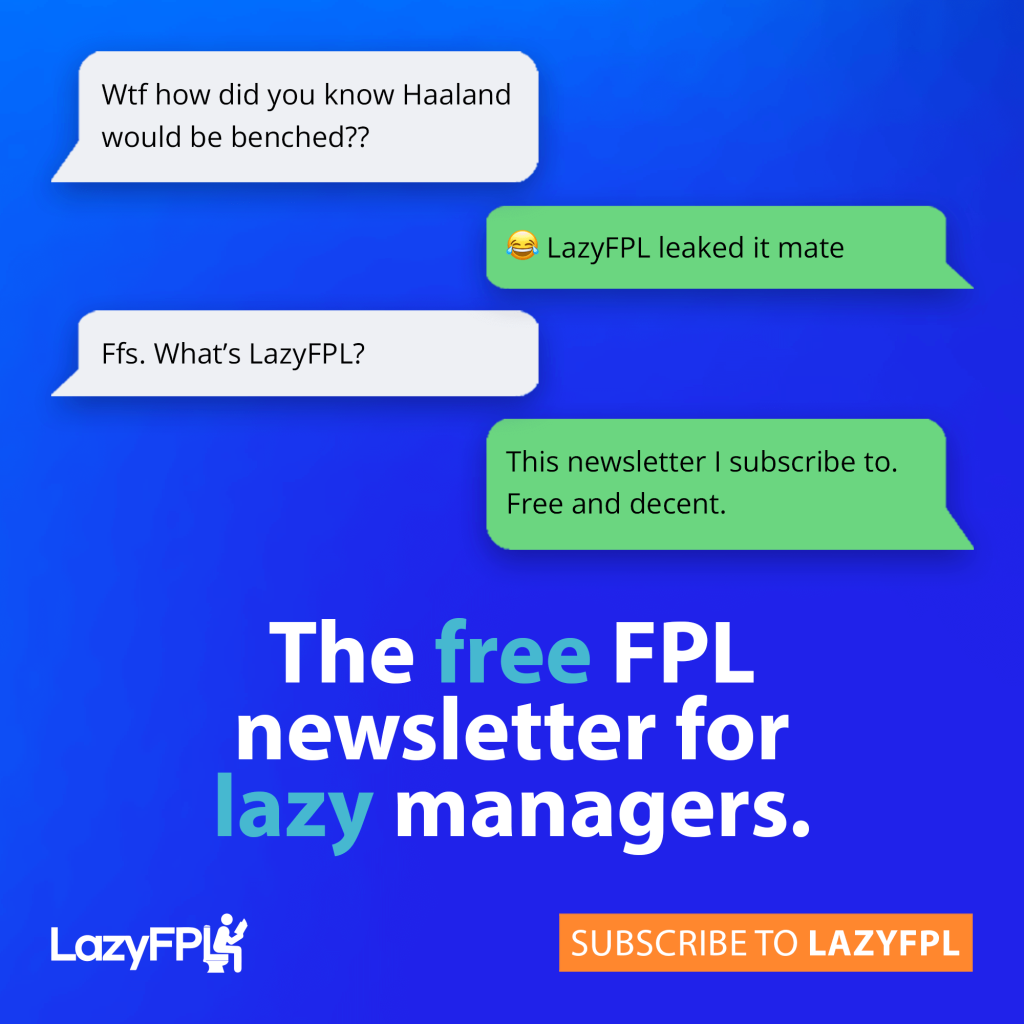 Classic FPL Team Names
These FPL team names are the classic ones. The ones that you'll see repeatedly within the leaderboards, but for a reason. Timeless wordplay that's guaranteed to get a laugh out of your mini-league rivals.
Ctrl + Alt + De Laet
Gangsters Allardyce
Chicken Tikka Mo Salah
Pique Blinders
Who Ate All Depays?
Rubber Digne Rapids
Borussia Teeth
Norfolk n' Good
Bayer Neverlusen'
Expected Toulouse
Lads on Toure
Is Your Motherwell?
Inter Row-Z
Haven't Got A Kalou
Neuer Gonna Give You Up
Tea & Busquets
Deeney in a Bottle
No Kane, No Gain
Bayer Neverlusen
Pathetico Madrid
Creative FPL Team Names
Want to impress your friends with a creative fantasy football team name? Look no further than this list. The kind of name you have to sound out a few times in your head before you get it.
Khedira Pin Drop
Giroud Awakening
Show Me The Mane
What Samatta With U
Hanging By A Fred
Knockaert Blow
Groß Misconduct
Kinder Mbeumo
Cancelo Culture
Haven't Jota Clue
Kroos Control
Klopps and Robbos
Raya Sunshine
Crouch Potatoes
Soucek Mate
Klich and Collect
Hakuna Mateta
Rodallega Bombs
Targett Practice
Covid VARiant
Rude FPL Team Names
This one's for all the cheeky chappies out there. A list of rude FPL team names for those who want to play mind games on their mini-league rivals.
The VARginas
Exeter Gently
Your Mum's Zohore
Dijk in Diaz
Leavemyarselona
Get Your Koch Out
Michu at De Gea Ba
Inter Yer'mam
For Fuchs Sake
Book Ake
Two Goals One Cup
Ayew Gueye
HoldingMatip
Shut the FA Cup
Donny on de Beek
Fuchs-Mee-Ings-Niasse
Holding Mee Long Koch
2 Girls 1 Schlupp
Mount that Cantwell
Covid Denayer
Movie FPL Team Names
This section is for the film buffs. Here's the 20 best Fantasy Premier League team names that are related to the big screens, whether it's a movie title, character or actor
Obi One Kenobi Nil
Willian Dollar Baby
Cahills Have Eyes
Slumdog Mignolet
Mee, My Delph & Ibe
The Neville Wears Prada
Minority Laporte
The Big Lewandowski
Dukes of Hazard
Silence of the Lahms
The Wizard of Ozil
How I Met Your Mata
The Zarate Kid
Finding Timo
Bacuna Matata
Inglorious Bas Dost
Alisson Wonderland
Krul Intentions
Citizen Kane
It's All Gone Shane Long
Music FPL Team Names
There's few things better than a music inspired FPL team name. Our list ranges from artists to bands to song titles, leaving no gaps in between.
Murder On Zidane's Floor
Krul and the Gang
The Cesc Pistols
Le Saux Solid Crew
Dzeko and the Bunnymen
Blink 1-Eto'o
Lallana Del Rey
The Martial Mata LP
Flying Without Ings
Run The Kewells
Smack My Bilic Up
Sissoko Ono
Enter Shaqiri
Ake Breaky Heart
Under My Cucurella
Howe Toon Is Now
Don't Look Back Tanganga
Backstreet Moyes
Goals Aloud
Guns 'N Moses
TV Show FPL Team Names
Want a TV Show inspired team name? This list contains all our favourites from Löw Island to Come Digne With Mee.
Game Of Throw-Ins
Cesc and the City
Come Digne With Mee
Löw Island
Bernard's Poch
Stranger Ings
Netflix and Chilwell
Matty Cash in the Attic
Better Call Saúl
Men Behaving Chadli
Balotelli-Tubbies
Game of Stones
Pepe Pig
Pique and De Bruyne
50 Shades of O'Shea
Gilmour Girls
Teenage Mutant Ninja Skrtels
Rooney Tunes
Thomas The Frank Engine
That's so Craven
Official FPL Team Names:
The official FPL twitter asked their followers for some FPL team name suggestions and made this video for inspiration. There's some great new ones in here such as Kloppenheimer!