Welcome to the third and final instalment of our history of fantasy football series. In this article we will be looking at the history of FPL, tracing its origins back to 2002 and discovering how Fantasy Premier League has developed over the last couple of decades.
The Origins of FPL (2002)
In 2002, the FA launched the Premier League website in celebration of 10 seasons of the competition. The website included everything you'd expect a Premier League website to have; News, Statistics, Club Profiles, etc, but it also had a "Games & Fun" section.
Nestled within this section, somewhere between Keep It Up! (a desktop keepie-uppie game) and Bounce Mania (a platformer game where you play a ball that bounces through a 2D world), was the first ever instalment of Fantasy Premier League.

If you read part 2 of our History of Fantasy Football series titled "The Online Era" then you would have learned about ISM, the creators of Champions League Fantasy (1999) and CYKI: Can You Kick It? (2000).
ISM had been creating, testing and innovating fantasy sports products online for the past three years and this portfolio was no doubt key to their involvement in creating the official FPL game. Fantasy Premier League on it's release was largely a shiny version of CYKI, with a few more bells and whistles.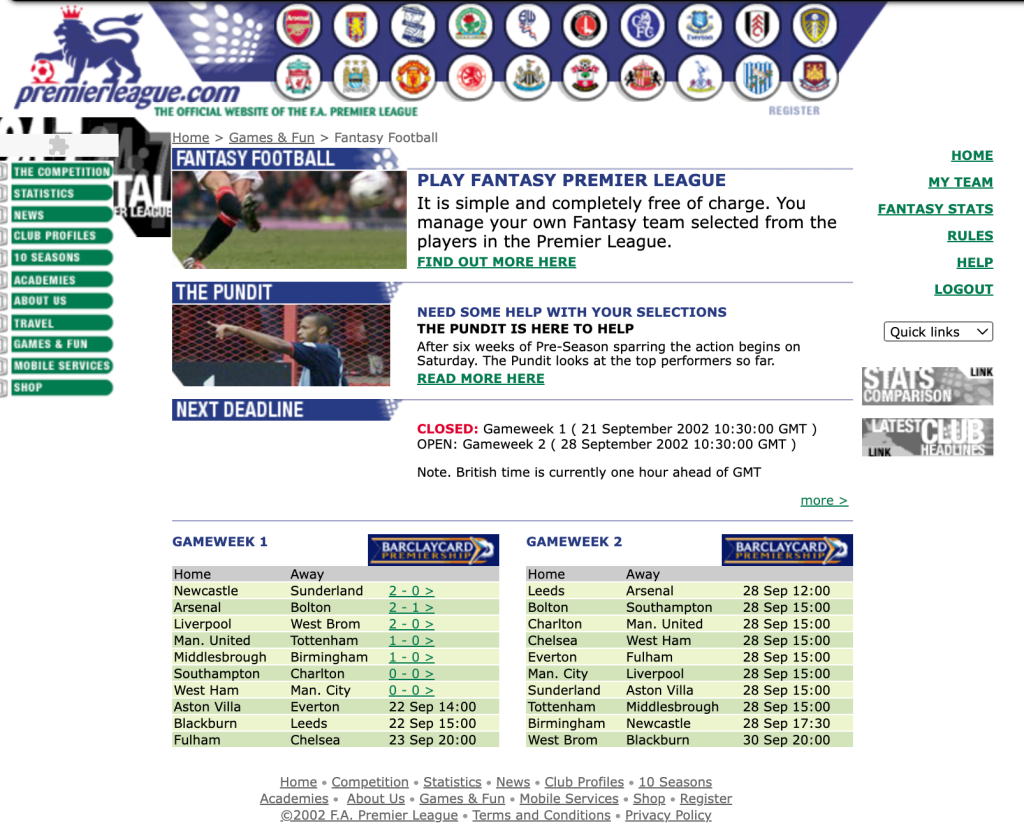 Surprisingly, Fantasy Premier League hasn't changed much over the past 20 years. However, there was a few rules and details that I discovered that are worth sharing.
Formations are by far the freakiest feature of the original FPL game. In the 2002 version of Fantasy Premier League, you could lineup with 2-5-3 or a 5-5-0; two formations that are – and rightly so – unavailable today.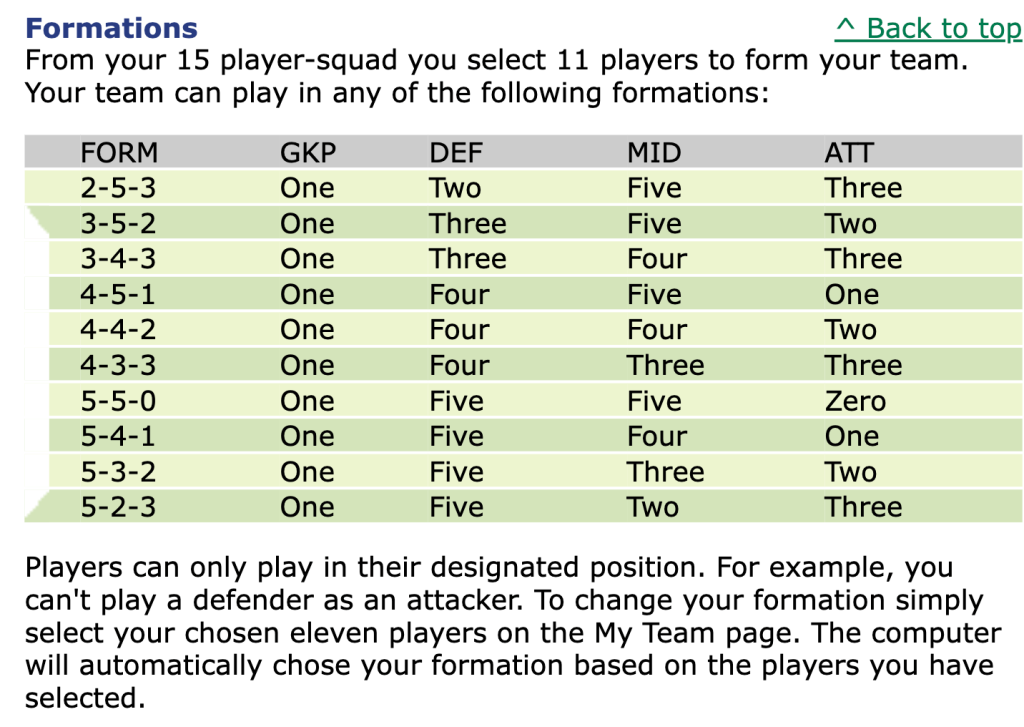 The points system has largely remained unchanged. Midfielders used to score 2 points for a clean sheet as apposed to today's singular point, and the bonus point system was more strict, with 1 player receiving all 3 bonus points for "being judged to have made an excellent performance in a game".
When it comes to free transfers, there is a "use it or lose it" policy. You cannot carry a free transfer over to the next gameweek.
It's also worth noting that back then, points were calculated using data provided by the Press Association and not OPTA. I found this quote within the Rules section that also bares striking resemblance to today's game:
Neither we nor the Press Association will enter into any correspondence relating to the allocation of points to players. We accept no responsibility for the accuracy of this data.

Fantasy Premier League, 2002
One of the strangest features of the game back then was that FPL didn't properly start until Gameweek 7. Meaning the season consisted of 32 gameweek's instead of today's 38. The first 6 gameweek's were considered "Pre-Season", allowing players to essentially wildcard every week and familiarise themselves with the game.

Whilst this feature would be considered an abomination in the modern day, it's important to note that this was the very first season of Fantasy Premier League. The landscape would have be far less competitive, people wouldn't have been moaning on Twitter (…yet) and there would have been a huge focus from ISM & the FA into onboarding users.
The First Ever Winner of FPL
The first ever winner of FPL, back in the 2002-03 season, was Graeme Haddow who managed 1940 points over 32 Gameweeks. Graeme actually joined in Gameweek 3, which was fortunately pre-season so point scoring hadn't started.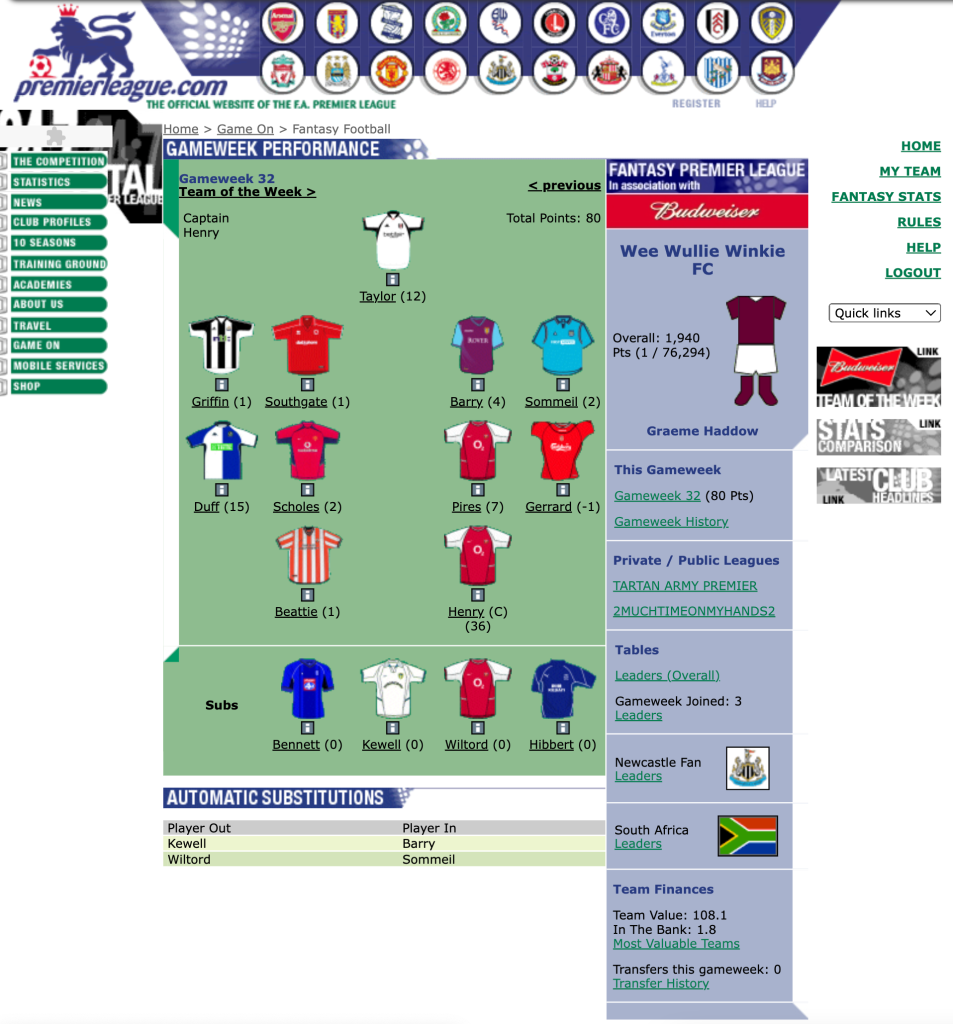 Thierry Henry (c) managed a goal and 3 assists in Arsenal's 4-0 victory of Sunderland. Damien Duff scored and picked up 2 assists and Blackburn's 4-0 away win over Tottenham, ensuring European football next season. Elsewhere, Steven Gerrard did his best to sabotage Graeme, picking up a second yellow late in the game for a reckless challenge on (another Graeme) Le Saux.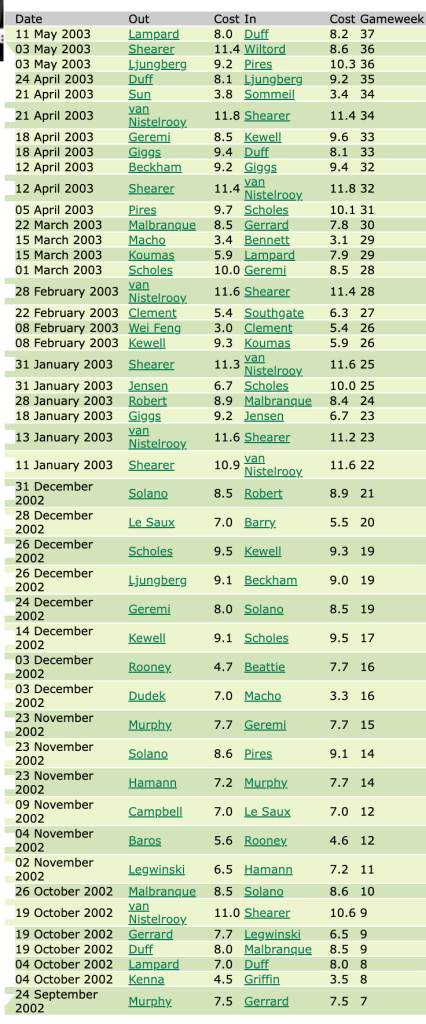 Here's the transfer history from Graeme's winning season. There's not enough data in the Internet Archives to determine which of these transfers were the most decisive, however, there's a bunch of interesting things to take away from this screenshot.
16 year-old Wayne Rooney costing 4.7 (implying he probably cost 4.5 at the beginning of the season).
You could acquire a defender for 3.0 (you can see Everton's Li Wei Feng valued at this).
You could acquire a goalkeeper for 3.1 (Ian Bennett) and 3.4 (Jurgen Macho).
Top goalscorer, Ruud van Nistelrooy, saw a price increase of 0.8m from October to April.
Lampard's starting value was 7.0, Gerrard's starting value was 7.5
The History of FPL Rules
2003-04:
2004-05:
2-5-3 & 5-5-0 formations removed.
2005-06:
Clean sheets for midfielders reduced from 2 points to 1 point.
New "Actim Index" bonus point system. Awarding points to best 3 players (3pts, 2pts, 1pt).
New specification on what is considered an assist:
– "If an own goal is scored there is no assist."
– "No assist is given for a player who earns a free kick that subsequently results in a goal."
– "No assist is given to a player who simply touches the ball sideways from a free kick"
– "No assist is given to penalty taker when penalties are saved or come back off the woodwork before a goal is scored"
Secondary Assists added: "If an additional player makes a significant contribution before a goal is scored, then that player is awarded a second assist. This would involve having a major influence in the move either directly before or after the first assist."
2007-08:
"Actim Index" scrapped. Bonus points now awarded by "Press Association analysts, all of whom are ex-professional footballers, who attend each match"
Secondary Assits removed.
New red card rule: "If a player receives a red card, they will continue to be penalised for goals conceded by their team."
2008-09:
The introduction of one wildcard to be used whenever during the season.
Tie-breaker rules added to mini-leagues.
2009-12 (it was impossible to find rules for specific seasons between these years):
Second wildcard added (one any time, one in January).
Assist now awarded to the player who wins the free-kick that's directly scored from.
Players tied for bonus points both receive the same bonus points.
Head 2 Head leagues added.
Carrying the free transfer to next gameweek added.
2012-13:
FPL Cup added (from Gameweek 18 onwards).
OPTA becomes data provider.
Assists awarded for rebounds and own goals.
New bonus system (BPS) added with additional OPTA data sets.
2015-16:
UltimateFPL added
Chips added (All Out Attack, Bench Boost and Triple Captain)
Wildcard changed from Anytime/January to First Half/Second Half of season.
2017-18
UltimateFPL removed.
All Out Attack chip removed.
Free Hit chip added.