Fantasy Premier League went live for the 2013-14 and unannounced there was additional tab that read "Ultimate FPL". Befuddled users scrambled upon the page, some unable to access the page due to IP address issues and others discovering a NEW Fantasy Premier League game.
The Ultimate FPL game still hadn't launched, but the landing page boasted new features, elaborate concepts and prizes… CASH prizes. As the days drew closer, the patience of intrigued users began to wear thin and the new #UFPL hashtag began to resemble the eve of Fyre Festival.
However, unlike Billy & Ja Rule, ISM (the creators of FPL) pulled the plug on the game at the last minute, postponing it until next year. This fortunately meant (unlike Fyre Festival) nobody was out of pocket, but there was still a surrounding disappointment, air of confusion and a few wet mattresses.
The circumstances beyond control were almost definitely due to Gambling Licenses. Whilst taking a fiver off the average man to join an FPL league is no mean feat, if you're going to do it legally, you better abide by the Gambling Commissions rules. You know, the Gambling Commission, the ones who protected us all from Football Index…
Why Was Ultimate Fantasy Premier League Created?
As previously mentioned, Ultimate FPL just spawned one day out of nowhere. There wasn't people calling out for this product, there wasn't a beta (originally) and there wasn't a message from the creators about why it was created.
Therefore, we can only speculate, and for the rest of this section I will do just that.
Having researched fantasy football's arrival online recently, I learned a lot about ISM; the creators of FPL. One thing I learned about ISM was that in the early days, they loved pumping out fantasy sport products. One-offs. Things like "Fantasy FA Cup" for a single campaign – just to test the waters.
My theory is that during 2012 in some board meeting between the Premier League & ISM, someone probably brought up the success of their competitors paid entry fantasy football games (Sky, Sun, Telegraph, etc).
In addition to this, somebody also probably brought up how hundreds of thousands of pounds were moving around PayPal each year, facilitating illegal gambling via paid leagues on the FPL site.
And at that exact moment, I imagine somebody from ISM, the company with a thirst for experimenting with new fantasy products, connected the dots, jumped on the boardroom table and suggested they merge the concept of FPL with the paid entry feature of their competitors.
"ULTIMATE FPL we shall call it" they all concurred.
What made it ultimate?
Ultimate FPL would cost £5 to enter and £35,000 in prizes would be up for grabs. £25,000 would go to the winner and £1,000 would go to each manager of the month.
But what made it ULTIMATE? Perhaps an overcomplicated change of rules and concept that nobody wanted?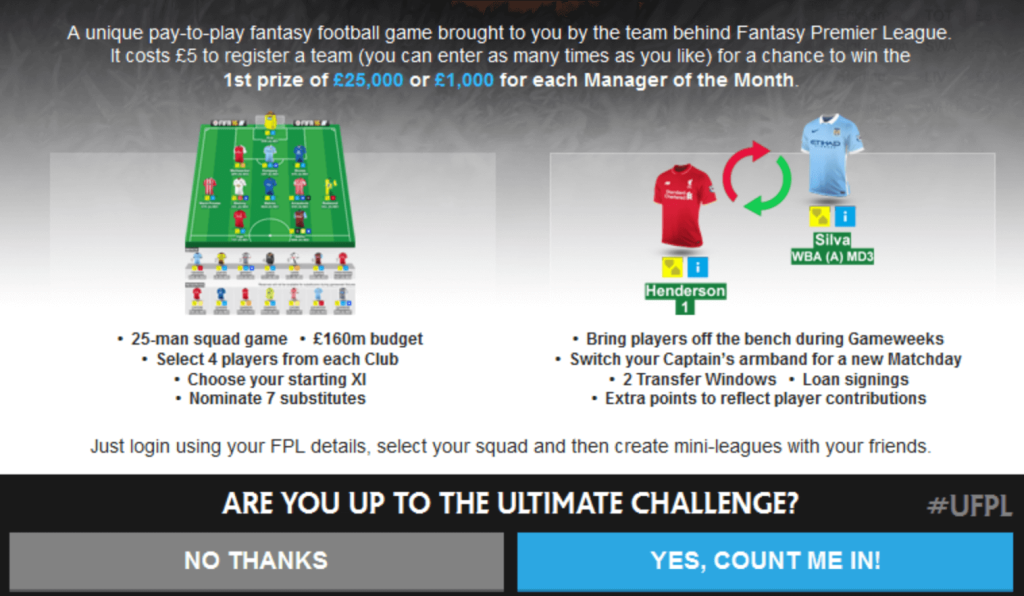 A 25-man squad with 7 substitutes and 7 reserves, team and captain changes within gameweeks, no transfers outside of transfer windows, loan signings for point hits, a slightly complicated scoring system, a home-grown/u21 players rule, and much, much more is what made this game ULTIMATE.
The Reception
The first season of Ultimate FPL saw approximately 25,000 sign up and pay the £5 entry. Whilst the rules stated "1 entry per person" they also stated that there was "no IP tracking software" and nothing could stop users from "creating and using different emails". So I think it's fair to say it probably wasn't 25,000 unique paying users.
Whilst there was definitely a handful of users who really embraced UFPL, there never really seemed to be a huge buzz around the game. The subreddit grew to just over 200 players, the hashtag was relatively slow, and the seasonal forum post on FISO amounted to under 100 posts in total.
I understand that a lot of people reading this article might have ended up here because they were once fans of Ultimate FPL, so I don't want to sound like I'm just here to slander it. I actually played it myself at the time, and whilst I didn't necessarily get along with it too well, in hindsight I do think it was a bit ahead of its time.
I think that if they just added the option to join a cash league within the existing FPL game, it would have had a bigger uptake. Adding a completely new and more elaborate version of the game and slapping a £5 entry on it (in my opinion) was a miscalculated and ill–informed decision.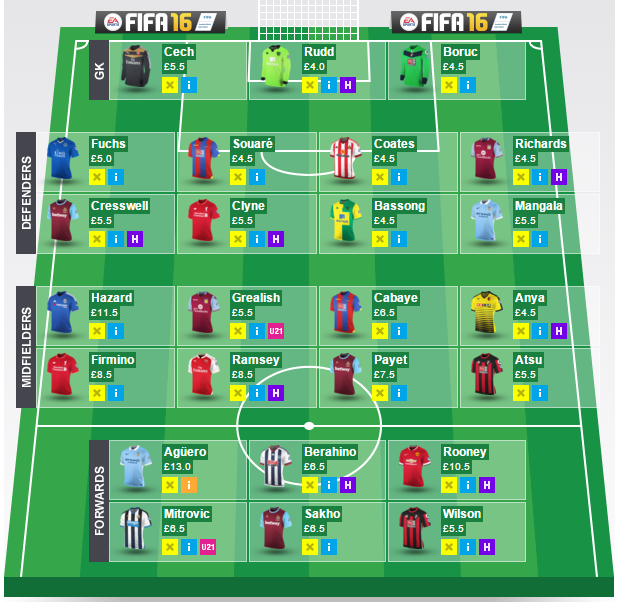 One thing that has always been a problem for FPL is retaining users across the season. If you played UFPL then you would have also been playing FPL too. UFPL was really targeted at die-hards, but the die-hards were happy with continuing in private cash leagues on the regular game. With so much to comprehend, lots of hands-on management needed, the game would have no doubt suffered a huge drop off of players as the season progressed.
FPL has seen year-on-year growth since it's inception and between from 2014-16 (the years UFPL was active), FPL saw an increase of approximately 200,000 new players. However, when UFPL returned for its second season, approximately 15,000 players paid to join, a massive 40% decrease on the first season.
The Fall of Ultimate FPL
What led Ultimate Fantasy Premier League to such a dramatic decline of -40% after just 1 season? Let's look at what the players were saying about the game at the time:
"Sorry, but the page you were looking for can't be found." Anyone else gets this?

/u/pucykoks
So Ultimate FPL launched, following their (speculated) one year delayed Gambling License and interested players rushed to sign up, only to be created with a "page not found" error message.
That's because Ultimate FPL was legally regulated in UK and in countries where "betting isn't illegal". This meant that, to quote their Terms & Conditions, you couldn't join if you were from: "Belgium, Brazil, Bulgaria, Canada, China, Czech Republic, Finland, Hong Kong, Hungary, India, Indonesia, Latvia, Malaysia, Netherlands, Norway, Pakistan, Poland, Portugal, Russia, Singapore, Spain, Sweden, Switzerland, Thailand, Turkey, United Arab Emirates, United States of America"
This meant that a huge percentage of interested players were IP blocked from joining. As a solution to this, Ultimate FPL released a beta version that anybody could play worldwide for free, with no prizes.
To caveat this, they did release a beta version that anybody could play for free with no prizes.
Injuries are so frustrating when you can't make transfers!

/u/funkdoct
I've also been crippled by injuries, a total of eight (with Sturridge potentially playing this week? not sure)

/u/dav_pls
Injuries seemed a huge issue and the loan system was ruthless (recurring point hits for every gameweek you keep a player on loan). This meant you had to continually take point hits, rather than in FPL where you could just use your free transfer or take 1 hit to permanently replace the injured player.
Of course the concept of the game is to have a squad that covers against injury, but in the instances where a number of players were getting injured (especially star players), it began to wear thin taking such frequent hits.

Finished 5th, not bad. I prefer the points system of this to FPL, but it's rather high-maintenance with having to swap players between match days. Also without transfers it's not possible to fix the team if initial selections are poor, FPL is more forgiving in this respect. Don't think I'll be playing next season.

/u/General_Z
had a good season but will not play next season, but was a good experience

/u/knoxvox
This is perhaps the most damning example yet. Players that have had good seasons, even finishing as high as FIFTH! deciding to throw in the towel and not return next year, citing the game as too high-maintenance.
This also suggests that the prize money allocation wasn't done very well. Having to finish 1st either monthly or overall is ruthless. Finishing 5th vs so many people deserves some kind of reward.
Ooops I've forgot about sorting my #UFPL team out. Not sure I can focus on this game at same time as #FPL!

@Mt_516
Lol. My #UFPL team has gone to shit already! Forgot to bring in my bench players! It's shit anyway. #wasteofafiver

@FPL_Fly
Lot's of, if not all, FPL players (despite the £5 entry) saw it as secondary to FPL. Probably because most serious FPL players are paying more than £5 to enter unofficial FPL cash leagues.
The End of Ultimate FPL
As the 2016-17 came around, Ultimate FPL disappeared with no goodbye message or official indication as to why. I would summarise the rise and fall by assuming that Ultimate Fantasy Premier League was launched as an experiment by FPL to see if they could monetise their product and was terminated due to early downward trajectory of both players and income as the years progressed.
This article highlights all of the information I could find from the internet archive and various forums that covered UFPL, but there's no doubt some gaps within my research. If you used to play UltimateFPL or have any supporting information, please don't hesitate to get in touch.