GW10 has been heavily pinpointed by FPL managers since the start of the season as a potential Wildcard week with so many clubs, particularly top half, having massive fixture swings to take advantage of.
This article will look at my Wildcard picks for FPL Gameweek 10. I'll show you some of the teams to target on a GW10 Wildcard, before delving into the essential players and some budget enablers. We'll then finish with one of my drafts, and the draft of an FPL expert, as an example.
Before I start, I want to personally recommend the excellent (and FREE) LazyFPL Newsletter. 24 hours before every deadline they send you a quick email with everything you need to know. It's perfect for FPL managers who want to win more by doing less!
Analysing The Fixtures
Analysing the upcoming fixtures is key to success in FPL and will play an instrumental part in the success of your Gameweek 10 Wildcard.
Whilst casual players will select the players that have simply scored the highest points in recent weeks, more experienced players will examine the upcoming fixtures and try to forecast the next big scorers.
Best Fixtures
| | | | | | |
| --- | --- | --- | --- | --- | --- |
| GW | LIV | WHU | AVL | BHA | ARS |
| GW10 | NFO | EVE | LUT | FUL | SHU |
| GW11 | lut | bre | nfo | eve | new |
| GW12 | BRE | NFO | FUL | SHU | BUR |
| GW13 | mci | bur | tot | nfo | bre |
| GW14 | FUL | CRY | bou | che | WOL |
| GW15 | shu | tot | MCI | BRE | lut |
| GW16 | cry | ful | ARS | BUR | avl |
Liverpool have to be the team to target due to their abundance of quality options and mouth watering upcoming fixtures.
West Ham, Aston Villa, and Brighton also have favourable runs, each starting with home games against sides amongst the worst 10 for xGC. Meanwhile, Arsenal face all 3 newly promoted sides plus Wolves in their next 6.
These are the 5 sides to take advantage of when combining good league position and excellent fixtures.
Average Fixtures
| | | |
| --- | --- | --- |
| GW | TOT | NEW |
| GW10 | cry | wol |
| GW11 | CHE | ARS |
| GW12 | wol | bou |
| GW13 | AVL | CHE |
| GW14 | mci | MUN |
| GW15 | WHU | eve |
| GW16 | NEW | tot |
Tottenham have a slightly tougher run against 5 of the top 10 in their next 7 games. However, with Ange's men having the highest average xG (2.19) in the league, hosting Chelsea, Aston Villa, West Ham and Newcastle isn't as poor as it seems on paper. They also travel to Crystal Palace and Wolves in their next 2 away games.
Newcastle have been a force to be reckoned with in attack, with the most goals scored (24) and the most big chances (26) in the league this season.
Their upcoming away run includes favourable fixtures against Wolves, Bournemouth & Everton, sandwiched between testing home clashes with Arsenal, Chelsea & Manchester United.
Difficult Fixtures
| | | | |
| --- | --- | --- | --- |
| GW | CHE | MCI | BRE |
| GW10 | BRE | mun | che |
| GW11 | tot | BOU | WHU |
| GW12 | MCI | che | liv |
| GW13 | new | LIV | ARS |
| GW14 | BHA | TOT | LUT |
| GW15 | mun | avl | bha |
| GW16 | eve | lut | shu |
Chelsea, Manchester City & Brentford are the notable teams that suffer reverse fortunes when it comes to the fixture swing.
Despite a recent upturn in form, Chelsea have a horrible run to come. The Blues face 5 of the top 8 in the next 6 games, losing all of these corresponding fixtures last season.
Manchester City also have a poor run but as we know their assets are largely fixture-proof. Elsewhere, Brentford, aside from their fixtures against Luton & Sheffield United, have a relatively difficult next 7.
It's also worth remembering that both Man City & Brentford do not feature (blank gameweek) in GW18.
Wildcard Picks For FPL Gameweek 10
Now you know which teams have the best fixtures on the horizon, let's take a look at which players you should opt for on your GW10 Wildcard.
We will go through each position, starting from front to back.
Forwards
The 3-5-2 formation has been extremely popular this season. Your three strikers are probably Erling Haaland (£14.0m), Ollie Watkins (£8.3m) and a cheap option for bench fodder.
Watkins has 5 goals and 4 assists in 4 games with a non-penalty xG/90 of 0.56. He immediately faces Luton (H), making him a favourable GW10 FPL Captain. 
Midfielders
One of the biggest fixture swings comes for Liverpool, so if you've been going without Mohamed Salah (£12.8m) until now, it's surely finally time to concede defeat, especially as he's the only Liverpool attacker safe from rotation.
Having suffered myself at the hands of the FPL legend this season, my top priority for any Gameweek 10 Wildcard would be to accommodate him no matter what.
Such is the form that has propelled Tottenham to the top of the league, you want one of Son Heung-Min (£9.5m) and James Maddison (£8.1m) at the very least. Both have identical xGI/90 (0.70) and goal involvements (8), but Son has 7 goals to Maddison's 3, averaging 7.6 points per match to Maddison's 6.2.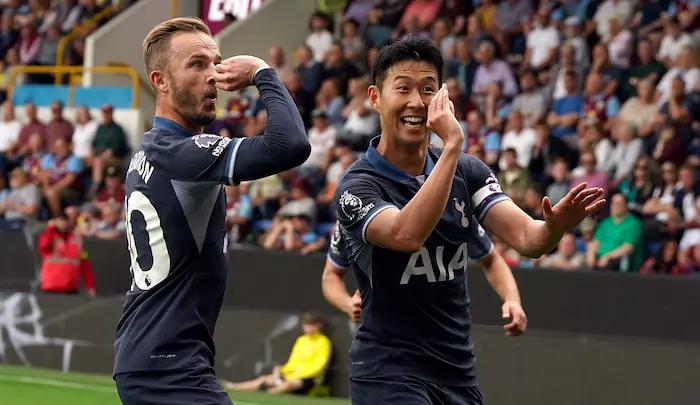 Maddison, however, comes in £1.4m cheaper and carries greater potential against low blocks, with Son better on the counter. Upcoming fixtures should offer a mixture, so if you're choosing one or the other, it could simply come down to your budget.
Managers flocked to remove Bukayo Saka (£8.5m) following his recent injury. Now with Sheffield United, Burnley, and Wolves soon to visit the Emirates, the midfielder has become the second-most transferred-in player for GW10 (as of Tuesday evening).
I'm even entertaining the possibility of an Arsenal attacking double-up with Gabriel Martinelli (£7.7m) or Martin Ødegaard (£8.5m).
4 of Kaoru Mitoma's (£6.5m) next 7 fixtures come against the worst 6 teams for xGC this season, and he comes in cheaper than many of his rivals.
He has 3 consecutive blanks against Aston Villa, Liverpool, and Manchester City. However, his upcoming fixtures against Fulham, Everton, Sheffield United, and Nottingham Forest are similar to Bournemouth and Wolves, who he hauled against earlier this season. He is, however, at slight risk of Roberto De Zerbi's mass rotation, and often operates in frustratingly wide positions.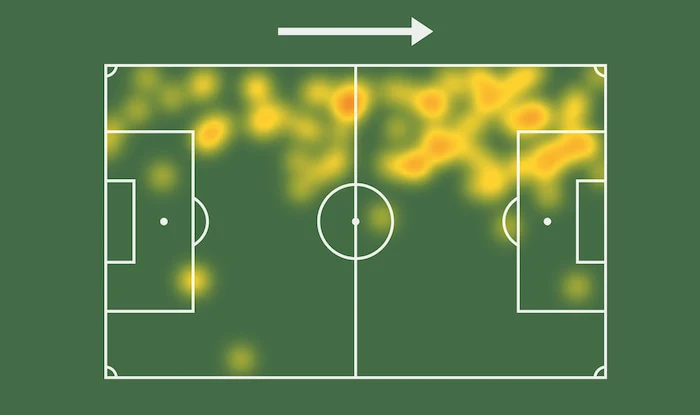 Moussa Diaby (£6.7m) provides an excellent opportunity to triple up on Villa amidst their incredible home form. Another option is Jarrod Bowen (£7.4m), who faces only 1 top-half team in his next 8, hasn't missed a minute this season, and with 6 goals, has only blanked against Newcastle, Manchester City, and Chelsea.
Defenders
Defensively, Kieran Trippier (£6.9m), Matty Cash (£5.1m), and Destiny Udogie (£4.9m) (pending injury news) are the current template picks with superb upcoming fixtures and attacking data.
Newcastle's xGA (1.15) is third-lowest only to Manchester City (0.84) and Arsenal (0.91). Trippier is such an outstanding asset, with 54 points in the last 5 gameweeks, so a double-up is a great choice.
Options include Dan Burn (£4.7m) and Fabian Schär (£5.2m), or even Jamaal Lascalles (£3.9m) as a super-cheap, short-term option standing in for the injured Sven Botman (£4.7m).
If you're struggling for Cash, you could opt for one of his more affordable teammates in Pau Torres (£4.5m) or Ezri Konsa (£4.5m) at the cost of some attacking threat.
In goal, the obvious choices are Matt Turner (£4.1m) and Alphonse Areola (£4.2m). They are the two cheapest starting keepers and rotate fantastically. With this pair, you can avoid facing any current top half teams until GW19, as shown below:
| | | |
| --- | --- | --- |
| GW | Areola | Turner |
| GW10 | EVE | liv |
| GW11 | bre | AVL |
| GW12 | NFO | whu |
| GW13 | bur | BHA |
| GW14 | CRY | EVE |
| GW15 | tot | ful |
| GW16 | ful | wol |
| GW17 | WOL | TOT |
| GW18 | MUN | BOU |
Statistics courtesy of Understat & Fantasy Premier League.
Of course, it's impossible to have all these "essential" picks on a Gameweek 10 Wildcard. One theory going around is to go without Salah or Haaland to spread your budget, but I wouldn't recommend it unless you want to watch Manchester City or Liverpool from behind the sofa!
GW10 Wildcard Enablers
Picking a cheaper striker to Ollie Watkins (£8.3m) is viable to accommodate the premium midfielders, but options are limited. Alexander Isak (£7.5m) and Darwin Núñez (£7.4m) both average >1xG/90, so the ceiling is high, but minutes are sporadic.
Julián Álvarez (£7.1m) has been outstanding and is only 6 points off Haaland, but has a tough run and brings an issue down the line in GW18 where Manchester City blank, so you could be left without a striker if you go for the double-up.
Whilst having less minutes boosted this figure, Darwin's incredible points per 90 makes him a great GW10 wildcard differential.
Even if Jürgen Klopp doesn't give him more minutes, he's proved he can make an impact in games regardless. In GW3 he managed 2 goals in 13 minutes, in GW4 he managed 2 assists in 64 minutes, and last GW he managed an assist in 28 minutes.
You'll probably need a cheaper midfielder to free up funds, and the leading sub-£6.0m options are Anthony Gordon (£5.6m), Pedro Neto (£5.8m), and Douglas Luiz (£5.5m).
Gordon's minutes suggest he is fairly nailed in the front 3 of the league's highest scoring team, and Neto has returned for 7 consecutive gameweeks with 7 assists and a goal.
Luiz is on penalties and on an incredible run of scoring in 6 consecutive home appearances, but be mindful he is 1 booking from a suspension.
Despite his aforementioned tricky upcoming fixtures, Cole Palmer (£5.0m) is another good cheap option. He's on penalties and has picked up returns in each of the last 3 for Chelsea.
To caveat, an interesting stat from the incredible LazyFPL Newsletter read "20% of Cole Palmer's shots this season have been penalties".
With the injury to Andy Robertson (£6.5m), Kostas Tsimikas (£4.5m) looks nailed as Liverpool's left back on the GW10 wildcard. Tsimikas has the third-highest projected points of all defenders until 2024, behind only Trippier and Trent Alexander-Arnold (£7.9m) (@FPLReview).
Gameweek 10 Wildcard Team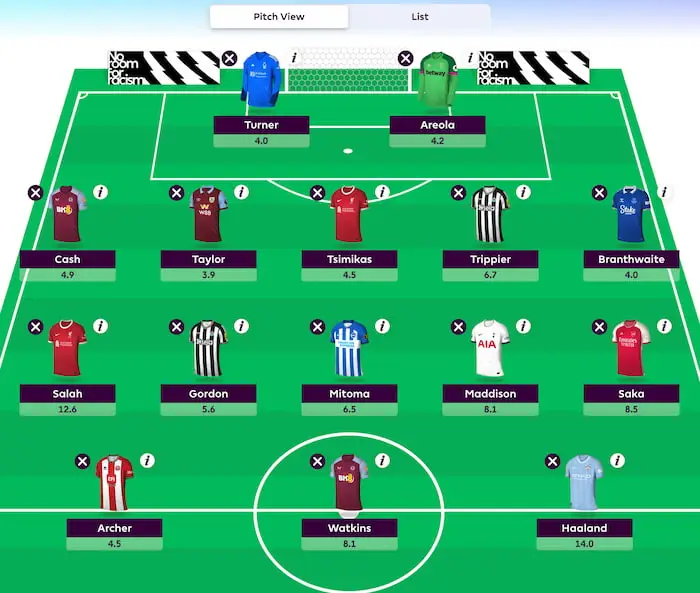 Expert Wildcard Advice
We're lucky to be able to call on The Professor, who you may know from LazyFPL, to share some expert advice. He has 10 consecutive top 100k finishes, 8 of which were in the top 50k… so he definitely knows his stuff.
He's already used his first Wildcard, but we asked him IF he was playing a GW10 Wildcard, who would he pick and why? 
Here's his team: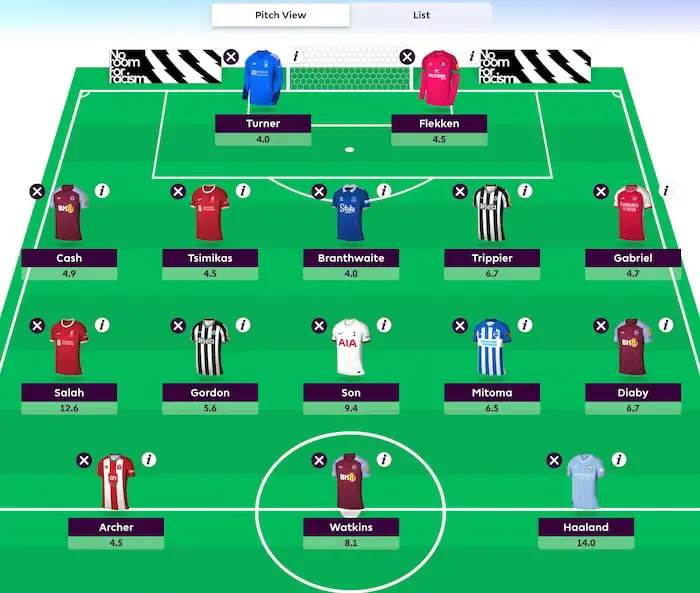 And here's what he said: 
"There are rumours circling around that Nottingham Forest current back up goalkeeper Odysseas Vlachodimos is edging closer to a start and with Areola dropping a clanger against Spurs I'd be worried about running both budget goalkeepers.
With this in mind I'd be on Flekken. Brentford are currently the best performing defence in the league when it comes to average distance of shot taken against (18.4 yards) and expected goals per shot (0.09). Two huge indicators of save points for budget goalkeepers.
My defence would be relatively template, other than perhaps the inclusion of Gabriel and Tsimikas but I believe they will be on the shopping lists of most managers at the moment.
In midfield, I'm unable to afford Saka who I do want. However, the picks are strong and I'm happy to run with an out of position Son in his place. Mitoma is in Brighton's upcoming fixture swing.
Forwards are again template. Not a chance you will see me going Haaland-less." 
If you want more advice from the Professor, subscribe for FREE to the handy LazyFPL newsletter!