Welcome to Part 2 of our History of Fantasy Football series.
In this article, we're looking at fantasy football's transition from newspaper to the internet. Paying homage to the now-dubbed Golden Era of fantasy football, discovering how on earth Tony Blair & a Maserati 3200GT were involved, before ending on our very own murder mystery case.
Fantasy League (1996)
If you read Part 1 of this series (The Offline Era), then you'll no doubt be familiar with Fantasy League. Fantasy League Ltd was started by Andrew Wainstein, who is largely credited as the man who "introduced fantasy football to the UK in 1991".
His game quickly progressed from 500 users in the early 90s, to steadily growing over the following years due to mentions on BBC Radio 5 Live, before partnering with the Daily Telegraph newspaper in 1994.
The mass-market version of his game grew rapidly thanks to the TV show "Fantasy Football League" presented by Baddiel & Skinner.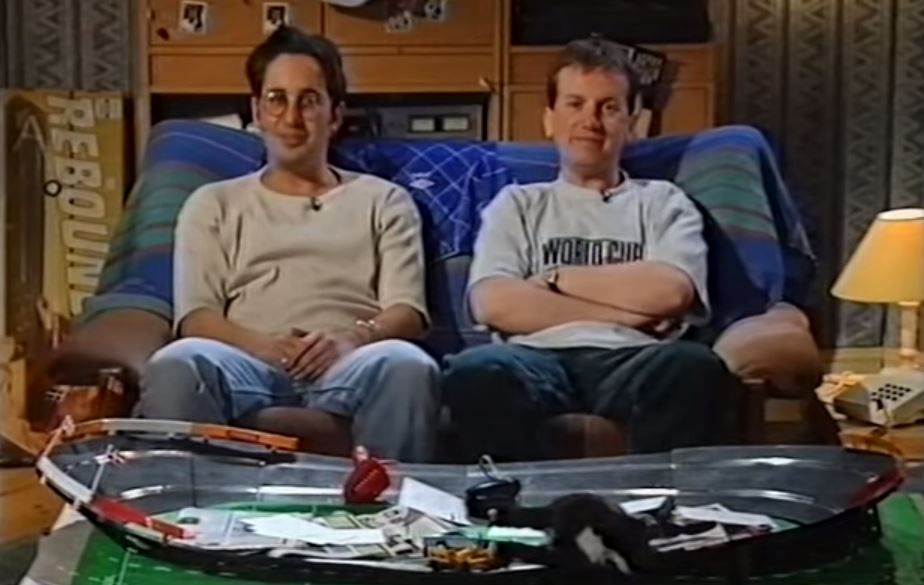 The first winner of the Telegraph's (newspaper based) Fantasy Football game was a 14-year-old boy who won 2 tickets to a football match of his choice. He chose a cup final in Brazil.
Whilst it's reported that Fantasy League launched its web product in 1996, I cannot see any concrete evidence that supports these claims. The earliest history I can find of them in the website is their School's League from 1999.
This could be seen as loose evidence that they were working on a web-version of their game as early as 1996, as the product looks quite advanced & successful to have just launched out of nowhere.
The School's League (1999)
In 1999, Fantasy League Ltd launched a "School's Fantasy League" website that joined together 270 schools and approximately 24,000 students. The idea was to use fantasy football to teach kids about mathematics, statistics, etc.
This game continued the following season, partnering with schoolmaster.net, and tripling their number of participants.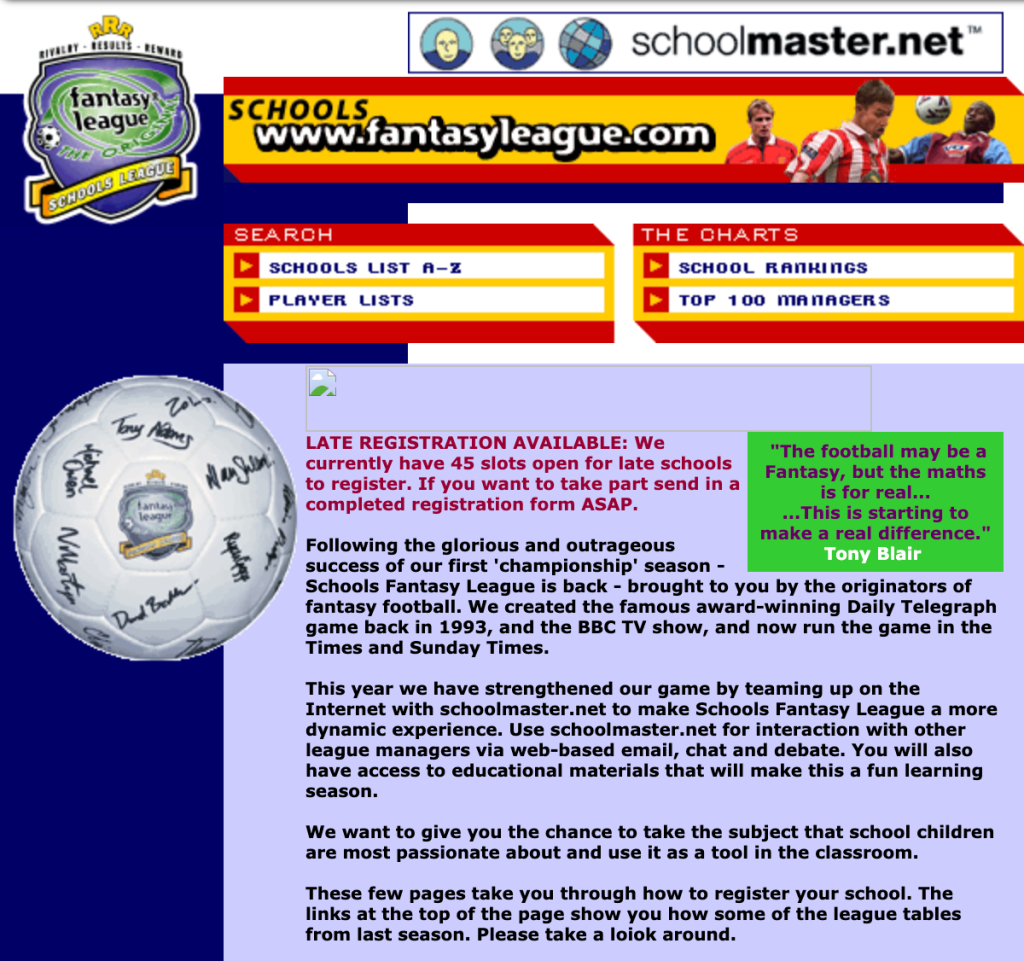 Most fascinatingly, Tony Blair was quoted saying: "The football may be a Fantasy, but the maths is for real… This is starting to make a real difference."
Sun Dream Team (1999)
After a long spell of fantasy football gaining popularity as a newspaper based game, in 1999, everybody's favourite newspaper The Sun launched a web-based game called DreamTeamFC with a £100,000 prize.
Registration was available both online and via the phone for a fee of £5.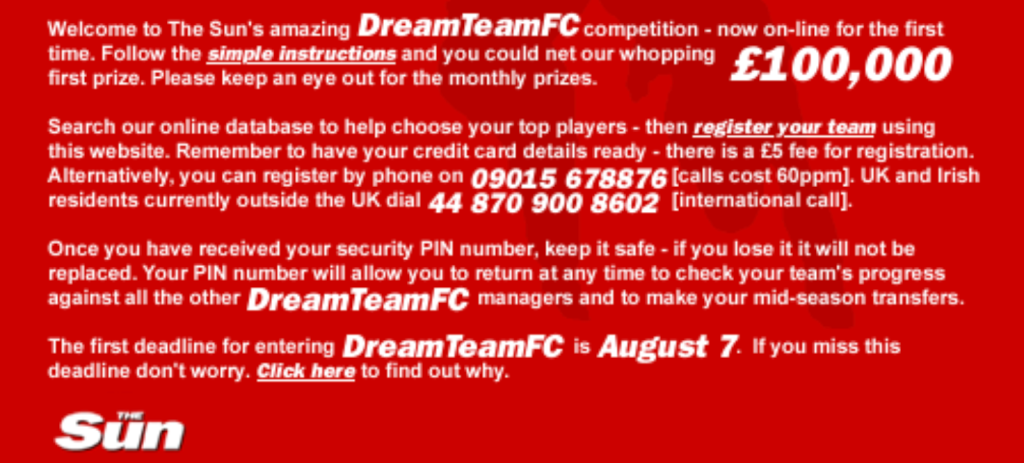 Who Are ISM?
ISM (International Sports Multimedia) was formed in 1998 and began producing some of the leading fantasy sports games on the Internet.
The tagline on their inaugural website read: "Ever wanted to partner Beckham and Zidane in your football midfield, or have Schumacher driving a Williams car?"
It seems like the advertising terminology hasn't advanced much in the last two decades…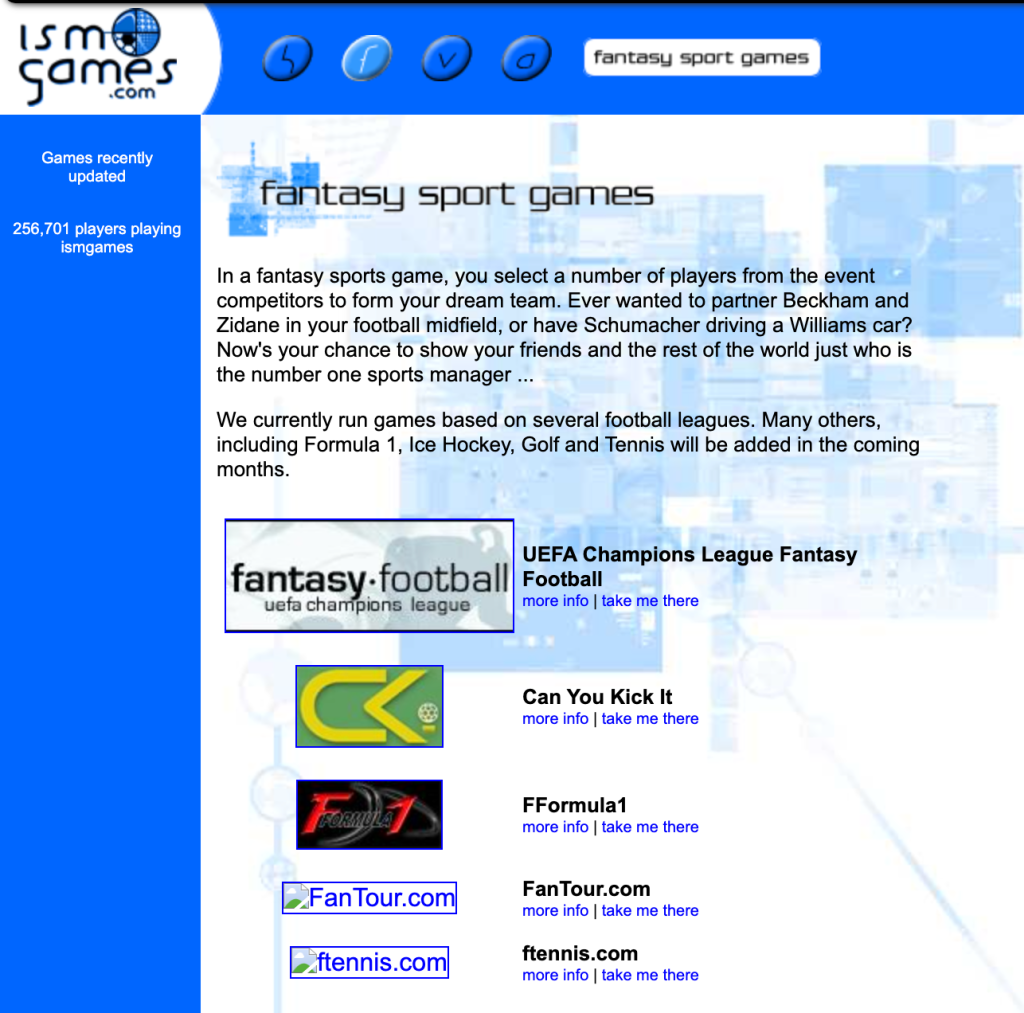 To this day, ISM are still the leading producing of fantasy sports games online, producing the popular Fantasy Premier League product.
Champions League Fantasy (1999)
Prior to the launch of Fantasy Premier League, ISM actually produced a UEFA Champions League fantasy game for the 1999 competition.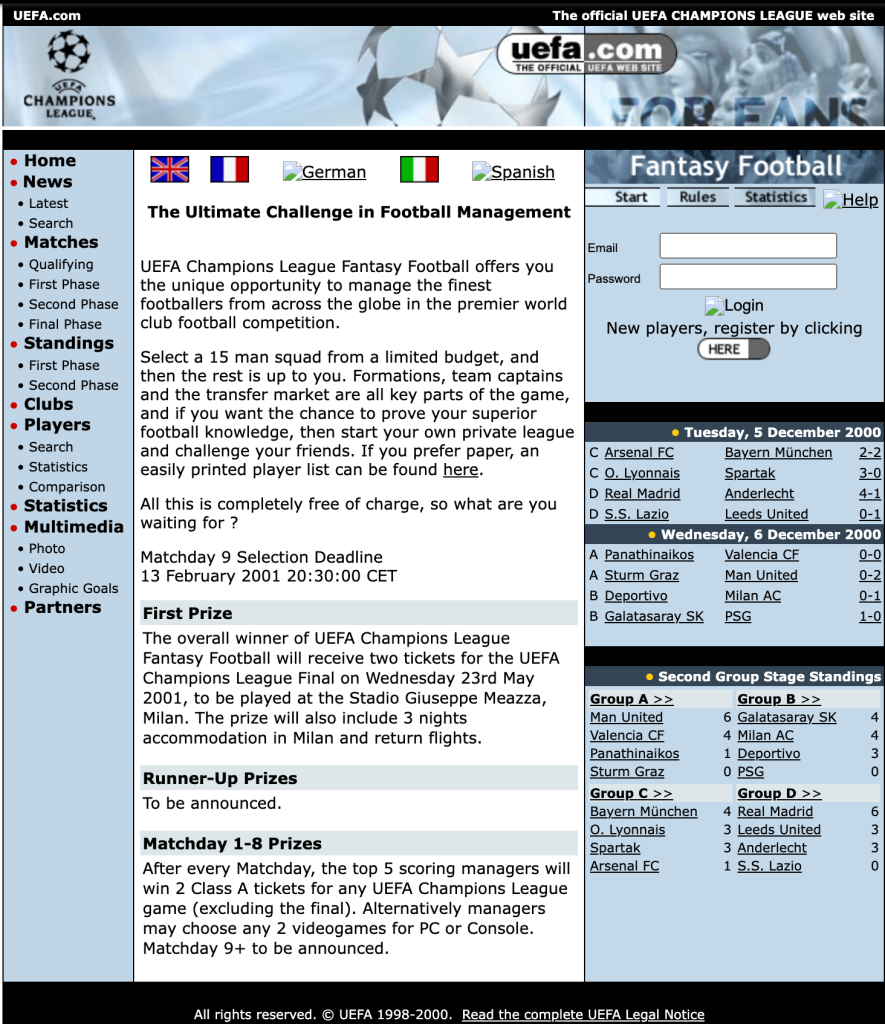 Except from Leeds United being a Champions League force (pictured beating Lazio 1-0), things don't look too dissimilar from today.
You can see the early foundations of FPL in elements such as terminology, layout and concept.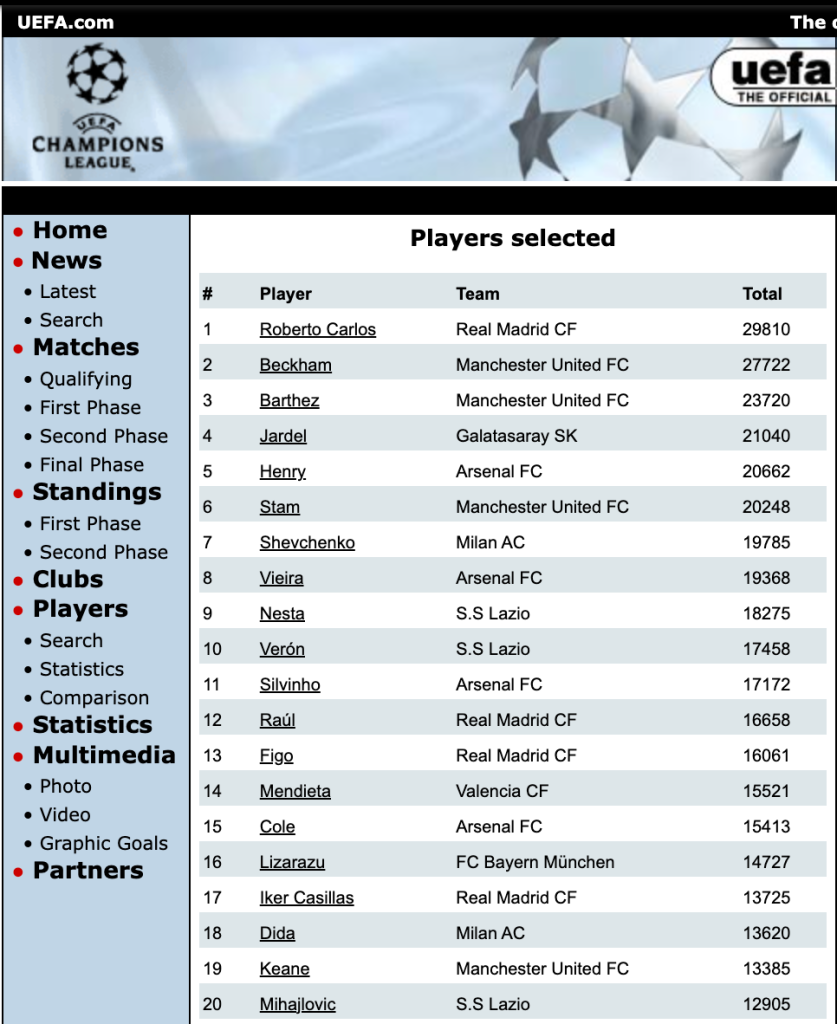 I couldn't progress to the next segment without sharing this blast from the past. Roberto Carlos leading the "Most Selected Players" with 29,810 opting for the Brazilian. Closely followed by David Beckham.
Premier Win (2000)
Around this point in time, we were really beginning to experience a boom in online fantasy football. Businesses were piling in and battling for market share.
The best example of this is Premier Win. A fantasy football website that appeared out of nowhere, hosting a £1 million prize-pool backed by a £750,000 aggressive marketing campaign.
It's a shame they didn't invest a bit of that money into a website that didn't look like a reconstruction of a Joan Miró painting.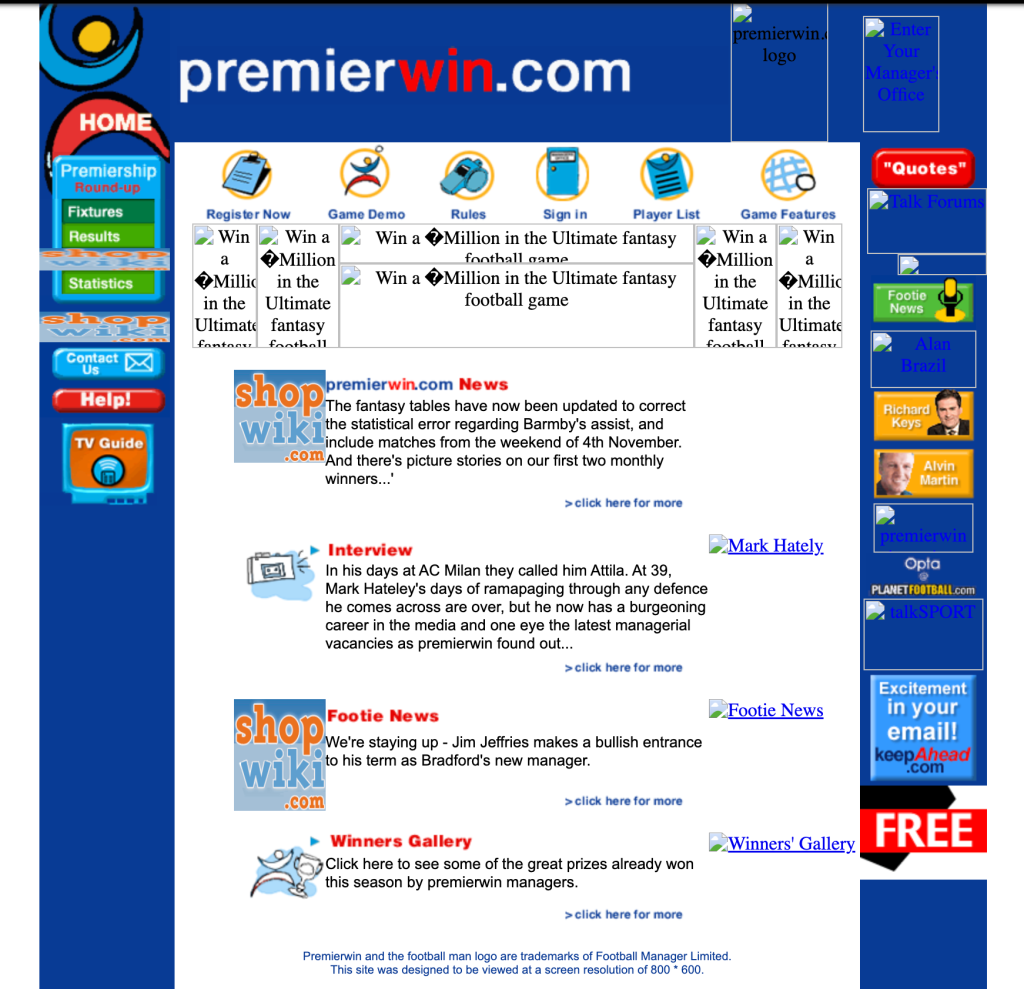 Premier Win was promoted everywhere that season. FourFourTwo, TalkSport, Match of the Day, TV, etc, with the aim of acquiring a subscription base of 250,000 players within the first three months of the competition.
Needless to say, they fell sort of these ambitions and liquidated at the end of the season: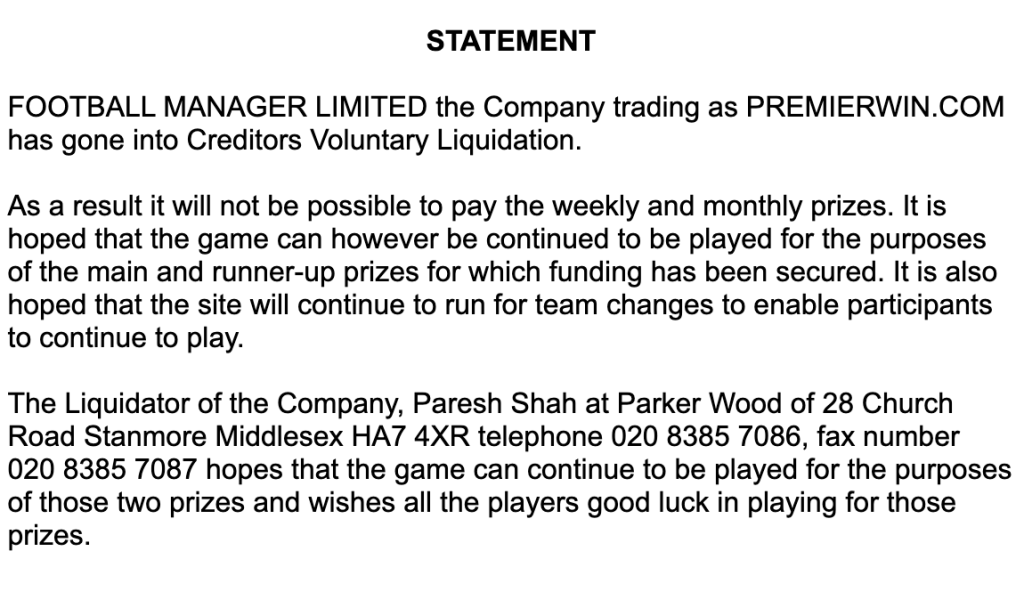 CYKI: Can You Kick It? (2000)
If you throw enough shit at the wall, eventually something will stick, and as this shit slithered down the wall, reached the ground and sprouted into the foundations of what we know FPL as today.
CYKI was the first Premier League fantasy football game produced by ISM, after the successful run out of the UCL game the year prior.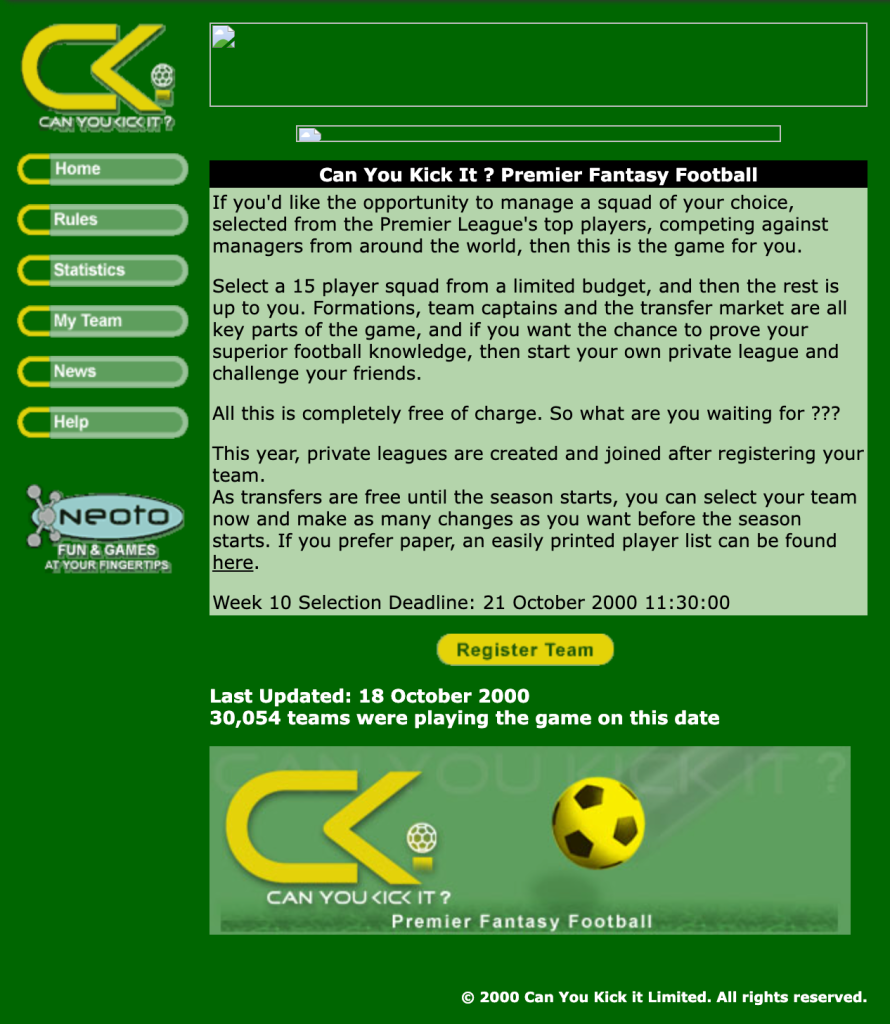 The game has 32,000 players in their first season and continually grew its playing base over the years. CYKI also hosted regular spin off games for competitions such as Euro 2000, FA Cup 2008, etc.
It could be speculated that CYKI was influential in ISM's bid to get the official Premier League contract when they launched their website in 2002.
The Can You Kick It! game continued alongside Official FPL until being discontinued in 2010-11, when FPL acquired the domain and redirected it to their website.
UEFA European U21 Championship (2002)
Around this time, fantasy football games were everywhere and for every competition you could imagine.
I thought that the 2002 u21 Euros was a good example of this. We're talking over two decades ago you could play U21 Euros, a game that you cannot play to this date or within my entire memory of fantasy football.
If you are an avid fantasy football player, the late 90s/early naughties was the fantasy golden era, with businesses embracing fantasy sports and experimenting to see what engaged fans.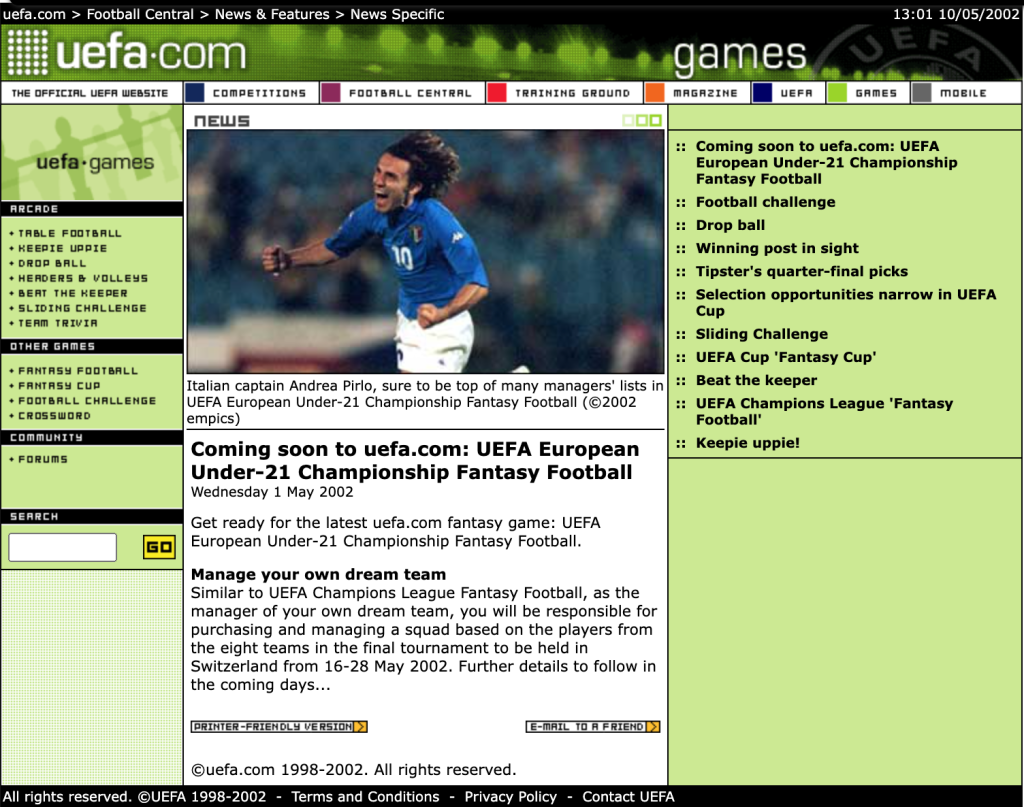 Under-21 Andrea Pirlo was a popular pick for this contest.
World Cup (2002)
Nothing concludes this era's fantasy football gold rush like the 2002 World Cup. All the aforementioned websites (and more), from the newspaper sites, to the game websites, competed to host the ultimate fantasy experience for the World Cup.
FISO published a list of all the World Cup 2002 fantasy games, predictors, etc, that you can still view today.
Online technology and web development had advanced quite a bit since the embryonic years, so websites could also now accept payments more fluidly, which led to a huge increase in prizes.
The Sun were offering a £100,000 prize, The Telegraph: £50,000, Sky would give you a free season ticket for any Premier League club, and my personal favourite, The Times, were offering that "the competition winner driving off with a £61,000 Maserati 3200GT!".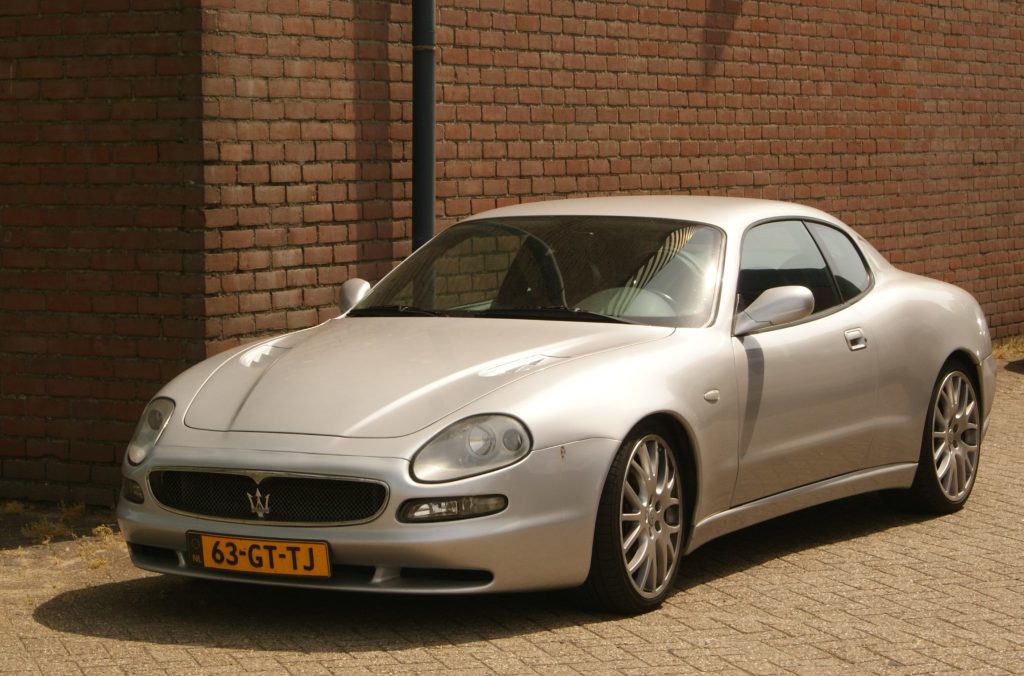 A Strange Coincidence
Whilst lurking deep in the forgotten parts of the internet you stumble across a lot of weird and wonderful things. Whenever I found the name of a prize winner, I would always Google their name along with relevant keywords that might allow me to stumble across their Twitter, Facebook, or whatever, so I could contact them.
Quick side note: If you are a winner of an aforementioned prize, or something equally as grandiose, from a fantasy football site, please do get in touch!
When researching DreamTeamFC coverage of the World Cup, I stumbled across the name of the £100,000 winner of the 2001 tournament:

Congratulations, Christopher, on your (now decades old) win, I'm now going to Google you…

I've contacted a lot of Christopher Hartley's on Twitter, and I'm awaiting one to emerge as the winner and debunk this murder mystery. But until then, I want to continue being a BTEC version of Baudi Moovan from the Netflix show Don't F**k with Cats.
Another quick side note: If you're Christopher Hartley, please contact me so I can remove this segment of the article and end the connection between you and the Huddersfield-based, drug-fuelled, homosexual homicide case.