In this captain picks for FPL Gameweek 10 article we will attempt to settle the debate between Haaland, Salah, Watkins or Saka.
Deciding who to captain in GW10 is not an easy decision, with in form players coming up against favourable opposition.
Just before we dive into that, I'd like to recommend the LazyFPL Newsletter. They send all the important FPL info straight to your inbox, 24 hours before every deadline. It takes just minutes to subscribe and it's completely FREE!
In this article, I will use recent form, fixtures and underlying statistics to determine which player is the best Gameweek 10 captain pick.
Erling Haaland vs MUN (A)
It wouldn't be a captaincy debate without Erling now, would it?
He has had a good start to the season with an impressive nine goals in nine games and currently has the highest non penalty xG this season (6.6).
Successive blanks against Wolves & Arsenal, followed by a solitary goal last week has many believing the robot-like striker could be going through a software update.
In Gameweek 10 he travels to Old Trafford for the Manchester Derby, a fixture in which he blanked in last season.
Haaland is never a bad option, it's just that there might be a better one for GW10 captaincy.
Mohamed Salah vs NFO (H)
Mohamed Salah has a favourable fixture and is coming off the back of consecutive braces in GW8 and GW9.
Nottingham Forest are usually a better defence when playing at home (4.4 xGC at home vs 8.1 xGC away), so we could see another big haul for the Egyptian.
It's worth noting that in his last two, Salah has had two penalties and a late counter attack goal when Everton threw bodies forward in search of a point. He has registered 2.83 xG, but only 1.25 non penalty xG.
Ollie Watkins vs LUT (H)
Ollie Watkins is a huge contender for GW10 captain as he faces off against Premier League whipping boys Luton.
Luton are the fifth worst defence in the league (17.7 xGA) and last gameweek even Chris Wood managed a brace against them.
Watkins enters this fixture in a rich vein of form, spearheading a clinical attack that is only second to Newcastle in terms of goals scored (15) in their last 6 matches.
Bukayo Saka vs SHU (H)
Saka has been Arsenal's main man so far this season, he's their top goalscorer with 4 goals and also has the most assists with 4. This strong start to the season has resulted in him already picking up 58 points in FPL.
It's been hard to pin down exactly who takes penalties for Arsenal this season. I'm not sure if this is information or a weird coincidence, but of the 5 they've won, Saka has taken 2. The 2 he has taken were both at home, whilst the 3 he didn't were all on the road.
In Gameweek 10 he's playing at home. Let's see how this plays out.
Who To Captain in FPL Gameweek 10?
| | | | | | |
| --- | --- | --- | --- | --- | --- |
| Player | vs | xGC | xG | xA | xGI |
| Haaland | mun | 13.5 | 8.86 | 1.67 | 10.53 |
| Salah | NFO | 12.5 | 6.98 | 4.79 | 11.77 |
| Watkins | LUT | 17.7 | 4.87 | 2.45 | 7.32 |
| Saka | SHU | 20.7 | 4.50 | 2.15 | 6.65 |
Statistics courtesy of Understat.
Gameweek 10 presents the biggest captaincy dilemma so far in FPL 2023/24.
Despite their difference in recent form, last gameweek, Haaland was captained by 6 million and Salah by 1.2 million, a difference of just under 5 million.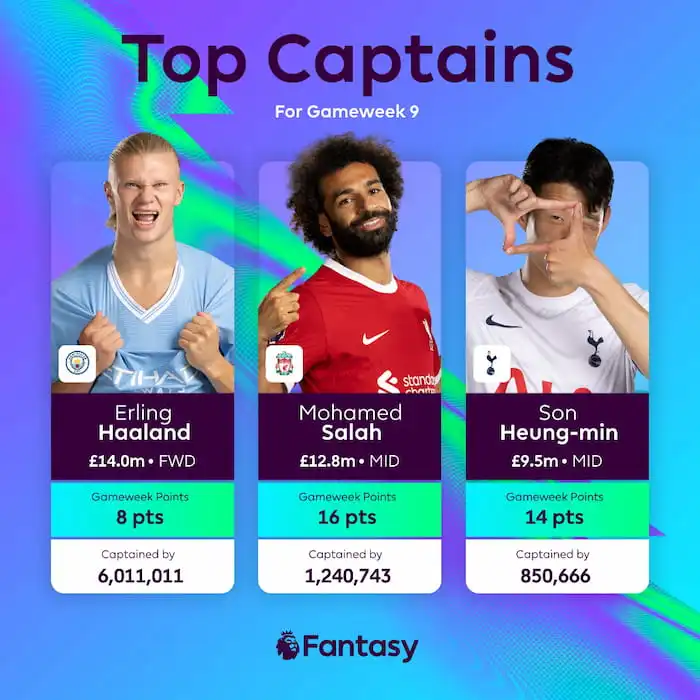 I would speculate this is largely due to a combination of factors including:
A huge number of inactive teams will have Haaland set as captain.
Many managers (when looking at the game overall) did not own Salah.
Lots of managers are hesitant to remove the armband from a player that has such a high-ceiling.
He had a good fixture (against Brighton).
All of these factors remain the same ahead of Gameweek 10, so I think it's fair to assume that, even with an uptick in the favour of Salah (both in terms of ownership and trust with the armband), Haaland will be the ownership choice.
If you don't want to take any risks this week. Haaland is your man.
On paper, Salah is in the best form but has the toughest fixture of the 4. That said, the supposed "toughest fixture" is at home to Nottingham Forest, who last week conceded twice to Luton. If you dare take it off Haaland, put it on Salah.
Elsewhere, Watkins and Saka have THE fixtures that everybody is looking out for, facing Luton & Sheffield United at home respectively.
Expert GW10 Captain Tips
We're lucky to be able to call on resident expert The Professor, who you may know from LazyFPL, to share his captain picks for FPL Gameweek 10.
He has 10 consecutive top 100k finishes, 8 of which were in the top 50k… so he definitely knows his stuff.
Here's what he said:
"Mohamed Salah is streets ahead of anyone else when it comes to bookies odds, projected points, fixture difficulty, and eye test at the moment. 
Even if I had someone like Saka or Jesus who is playing against Sheffield United, I would still be firmly on Salah!
I imagine Haaland will score well but given the above it's an easy decision for me."
Before you go! Are you playing your Wildcard in GW10? If so, don't miss our Wildcard Picks for FPL Gameweek 10.