The international break provided some well needed rest for us FPL managers. A chance to watch football for what it is and without the string attached. I'm sure many managers let out a sigh of relief when they realised that Pickford's clean sheet wipeout, Rashford & Saka's blanks and Maddison's 1-pointer weren't detrimental to the ranking of their fictional online teams.
For the next 5 minutes, I'm going to give you some advice ahead of Gameweek 5. I'll whisper it in your ear like Southgate to Maguire, and whether you make good decisions or not, I'll back you in the press afterwards. Because FPL ultimately comes down to luck (or lack of it). Some gameweeks you're scoring a top-bins penalty in the Euro Finals, and other gameweeks you're scoring an own-goal in a friendly against Scotland.
First things first. Subscribe to LazyFPL. It's so good it's basically cheating. 24 hours before every deadline, they'll ping you an email with everything you need to know. It's also completely free!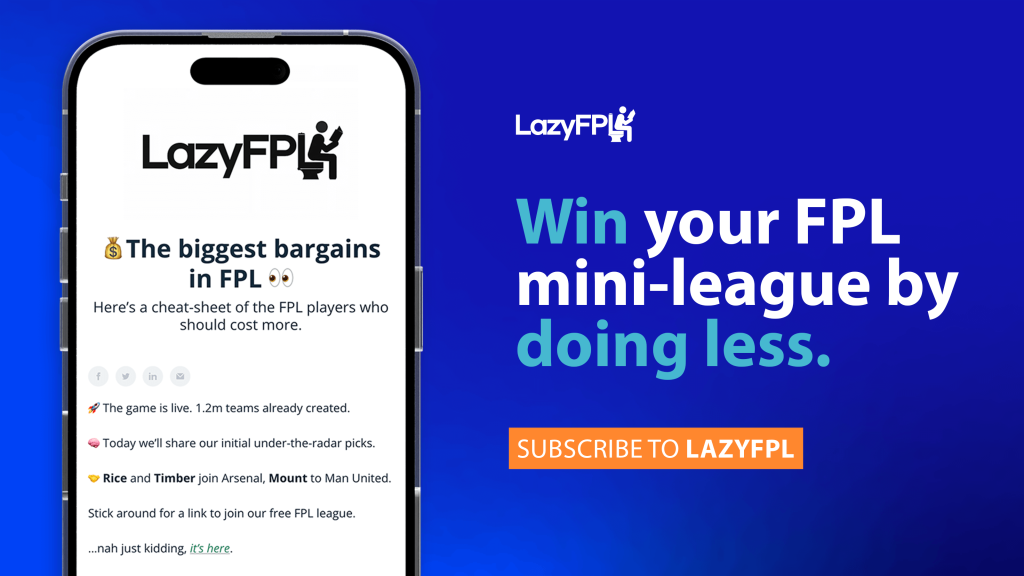 Gameweek 5 Tips:
Talking Points
Alright. It's been a while. What's happened in that time?
Son's going to play striker vs Sheffield United! Son's injured. Son's not injured!
Burnley & Luton will play twice in Gameweek 7.
Fixtures are turning in favour of Newcastle, Spurs, Man United, Liverpool & Aston Villa.
FPL managers flocking to Spurs assets after demolition of Burnley.
Patience is being lost with N. Jackson after his lack of returns.
Who To Captain?
Here again are we? Back in the debate of who to captain in Gameweek 5. As if the answer just isn't fixed on Haaland all season.
Present a nailed on, in-form, topless Harry Maguire and even Southgate wouldn't consider removing the armband from Haaland in FPL. That said, there are some managers speculating a differential captain in GW5.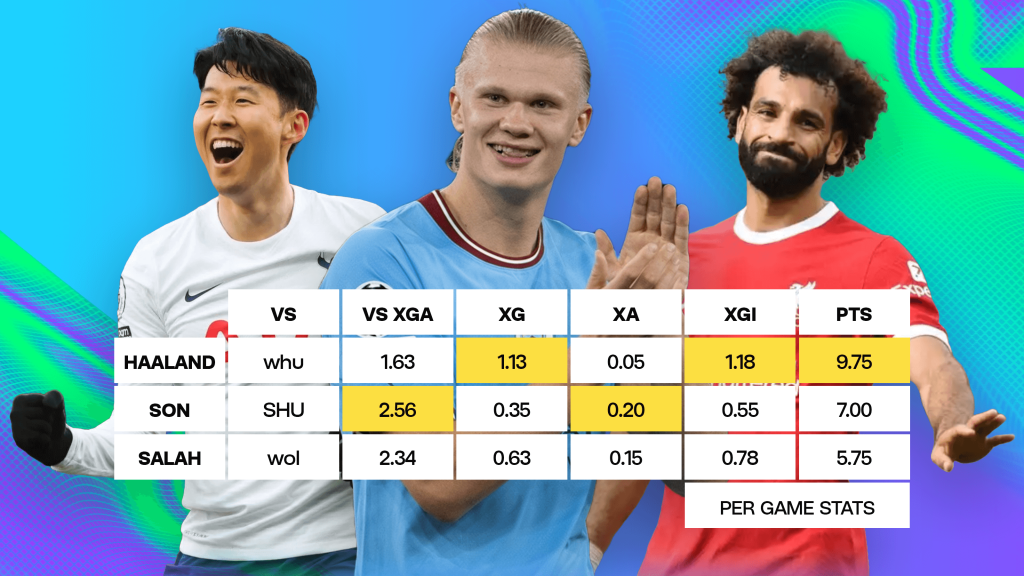 To answer this quickly. You should captain Erling Haaland in Gameweek 5. Obviously.
He has the highest FPL points and xG, bagged a hat trick & assist last gameweek, and last season managed 3 in 2 vs West Ham. He also has over 92% ownership. He's basically the official captain of FPL. The sensible player, the rebellious player, the active teams, the inactive teams, will mostly all be captaining him this week (and beyond).
Sure. Opt for a differential, but there's a huge opportunity cost in doing so!
Son vs Sheffield United (10.23 xGA, 2nd highest) is seductive I know. But at 11% ownership, he's still an advantageous differential without the captains armband.
Meanwhile, Salah vs Wolves (9.35 xGA, 4th highest) is also tempting. He's been Mr Reliable this season, returning in all 4 matches. Will he explode against Wolves? Possibly. Is he more likely to than Haaland? Probably not.
Who To Pick?
The fixtures are beginning to positively turn for a number of teams, but the standout ones for us are Newcastle, Tottenham, Man United, Liverpool & Aston Villa. This will not just influence who you transfer in, but also who you look to transfer out. A couple of Manchester United assets, and I'm not naming any names, could arguably be afforded some additional patience.
Bargains
Sven Botman (£4.5m)
Aaron Wan-Bissaka (£4.6m)
Destiny Udogie (£4.7m)
Matty Cash (£4.7m)
Differentials
Moussa Diaby (9.6%)
Son Heung Min (11.1%)
Darwin Nunez (11.3%)
Luis Diaz (12.7%)
Popular Picks
Ollie Watkins (21.2%)
Mo Salah (25.8%)
James Maddison (27.3%)
Kieran Trippier (30.3%)
Clean Sheet Odds
| Team | Clean Sheet Odds |
| --- | --- |
| Tottenham | 46% |
| Fulham | 40% |
| Man.City | 38% |
| Newcastle | 38% |
| Nottingham | 38% |
| Arsenal | 37% |
| Aston Villa | 35% |
| Chelsea | 33% |
| Liverpool | 32% |
| Man.United | 24% |
| Burnley | 23% |
| Crystal Palace | 17% |
| Luton | 16% |
| Brighton | 15% |
| Bournemouth | 13% |
| Everton | 12% |
| Brentford | 11% |
| West Ham | 10% |
| Wolves | 10% |
| Sheffield | 8% |
Anytime Goalscorer Odds
| Player | Anytime Goal Odds |
| --- | --- |
| Haaland | 52% |
| Salah | 42% |
| Son | 42% |
| Nunez | 38% |
| Richarlison | 38% |
| Isak | 37% |
| Jackson | 36% |
| Jota | 35% |
| Hojlund | 35% |
| Callum Wilson | 35% |
| Brennan Johnson | 33% |
| Watkins | 33% |
| Nketiah | 32% |
| Gabriel Jesus | 32% |
| Jimenez | 30% |
| Maddison | 30% |
| Alvarez | 30% |
| Awoniyi | 30% |
| Carlos Vinicius | 28% |
| Rashford | 28% |
| Harvey Barnes | 28% |
| Diaz | 27% |
| Gakpo | 27% |
| Ferguson | 27% |
| Diaby | 27% |
| Martinelli | 27% |
| Dennis | 27% |
| Joao Pedro | 26% |
| Saka | 26% |
| Odegaard | 26% |
| Origi | 26% |
| Solomon | 25% |
| Wood | 25% |
| Fernandes | 24% |
| Foden | 24% |
| Trossard | 24% |
| Reid | 23% |
| Fati | 23% |
| Welbeck | 23% |
| Almiron | 23% |
| Morris | 22% |
| Harry Wilson | 22% |
| Kulusevski | 22% |
| Martial | 22% |
| Edouard | 22% |
| Sterling | 22% |
| Havertz | 22% |
| Kalajdzic | 21% |
| Mitoma | 21% |
| Moore | 21% |
| Solanke | 21% |
| Mbeumo | 19% |
| Gibbs-White | 19% |
| Doku | 18% |
| Wissa | 17% |
| Bowen | 14% |
| Eze | 13% |