Who are the best Gameweek 38 differentials? We identify the best one-week punts that could prove the difference in your FPL mini-league!
What is a good differential?
In Gameweek 38 the sentiment around differentials seems to change whilst the philosophy remains largely the same. A differential is only a "good differential" if they outscore the player you're replacing. Whilst I agree that Gameweek 38 is the best week to take a punt on a differential, mostly because you're not plagued by your decision in future weeks, it's very important to consider your circumstances.
Are you playing for Overall Rank or Mini-League success?
If you've already written off your chances of success this season, and are for some reason reading this article, then you can be as risky you want.
However, if you're sat around the 250k mark, with dreams of a top 100k finish, you must ask yourself what you're prepared to lose in an attempt to gain. Removing a high ownership player for a low ownership player, could result in a climb up the table but on the other hand could result in a greater fall.
Think of all the weeks you've made transfers and realised that by doing nothing you'd have gained more points. Well this still applies now.
If you're a top 250 thousand-er with the aforementioned dreams, your approach in Gameweek 38 should remain unchanged. You simply should be aiming to lineup the 11 players you think will score the highest.
However, if you're 10 or 20 points behind your mini-league leader, then a calculated differential transfer or captaincy could be enough to close that gap. I'd recommend studying your opponent's team and listing the players that are unique to each of you.
For example, in my mini-league, this week. It's not 11v11, it's my opponent's De Gea, Arnold, Mac Allister, Mahrez & Isak (+20 points) vs my Ederson, Robertson, Fernandes, Rashford & Wilson.
I now must decide whether I think my 5 players can outscore his 5 players by 20 points, or whether I need to bring in a player that he doesn't have that I believe will outscore one that he does.
Whatever you end up doing, consider the consequences and understand what you're playing for.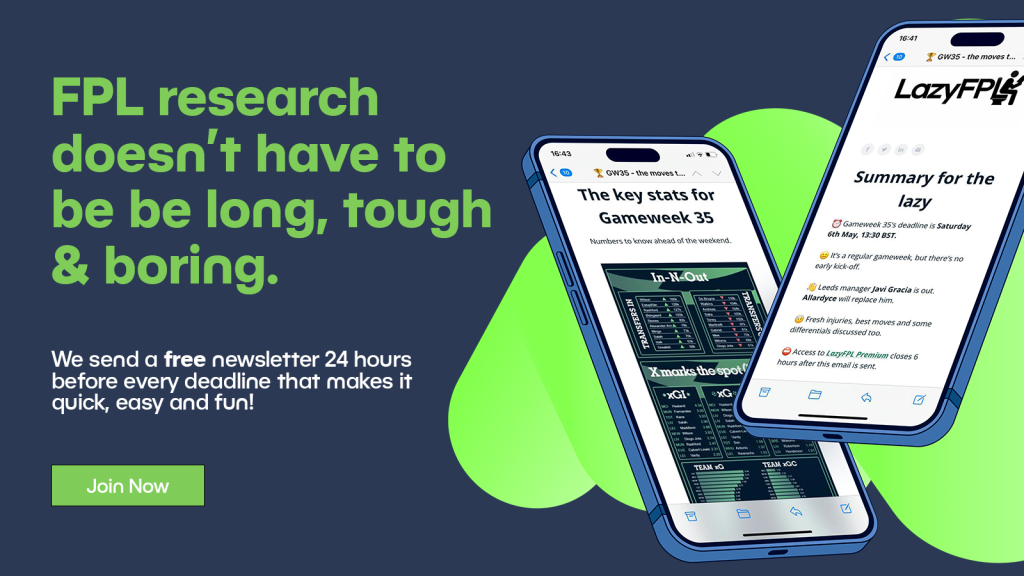 The BEST Gameweek 38 differentials
James Tarkowski (3.6%), Cody Gakpo (5.2%), Dwight McNeil (0.7%), Eberechi Eze (8.5%), Taiwo Awoniyi (0.9%), Jamie Vardy (2%), Harry Kane (29%)
If you're playing it relatively safe this week and need a fourth defender due to injury or to free up some cash for your other transfers, look no further than James Tarkowski (3.6%).
He'll set you back a measly 4.1m, Everton have the highest clean sheet potential and Tarkowski is the target of the majority of Everton's set pieces. It's not a pretty suggestion, but there's at least some theory behind it.
His teammate, Dwight McNeil (0.7%), is also worth a shout if you're not risk adverse and are looking for a trendy player that barely anybody else owns.
He's the 9th best player in the league (700 minutes minimum from 02/02/2023) for non penalty xG and xA. It's a must-win game for Everton, and Dyche will be looking for him to a difference maker versus Bournemouth.
Cody Gakpo (5.2%) has the fourth highest expected points for Gameweek 38, despite being forecasted 75 minutes.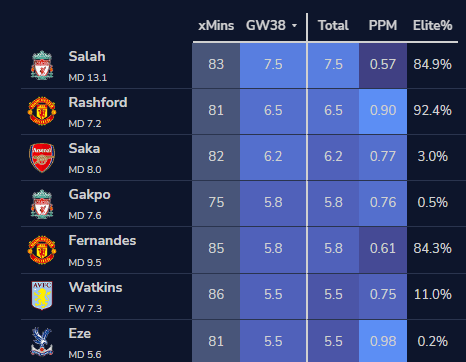 Gakpo has seen an increase in playing time recently, getting 90 minutes in their last three matches. Worth a punt if you're needing somebody in that price range.
Crystal Palace's Eberechi Eze (8.5%) is the popular choice of Gameweek 38 differential. He's valued at an affordable 5.6m, his underlying stats are great, has an appealing fixture versus Nottingham Forest… oh and he loves a shot!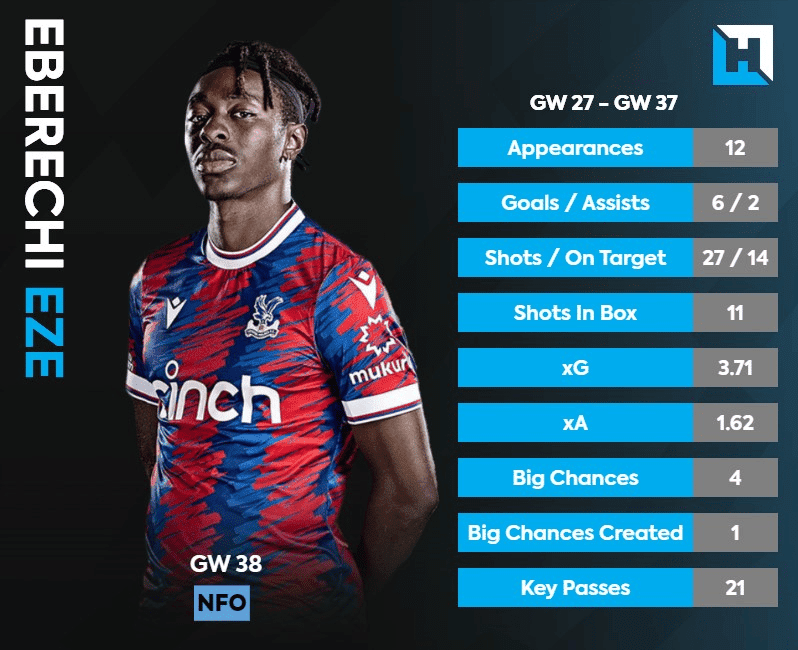 Taiwo Awoniyi (0.9%) has scored more goals (5) than any other Premier League footballer since the beginning of May. Nottingham Forest don't have anything left to play for, which could either mean he'll drop to the bench or be in a team that's gifted more offensive freedom.
Leicester are on the brink of relegation and will be throwing the kitchen sink at West Ham this Sunday. Jamie Vardy (2%) could become the hero once again, being the player who once guided Leicester to a Premier League title and then saved them from relegation. His minutes have been erratic this year so proceed with caution.
I've seen Harry Kane (29%) been bounced around as a transfer, as a transfer in for Haaland, or even as an alternative captain for Haaland. If you're chasing overall rank, it's a risky one. But if you're needing to close a fairly wide gap in your mini-league, there's definitely some method behind the madness.
Kane has been Mr Consistent this season and Spurs still have the dream of playing in the Europa Conference League up for grabs. Man City, however, are on the beach having wrapped up the title and may rotate heavily to avoid any injuries ahead of the Champions League final in June.
For the record, I'd never recommend transferring out/captaining Kane instead of Haaland. But I'd expect to see some people opt for this tactic in Gameweek 38. Whether it'll be a success is yet to be seen.