Every Gameweek, LazyFPL send an email 24 hours before the FPL deadline that summarises all of the key information that you need to know. The email is FREE and quite frankly unmissable. You can subscribe by clicking here.
Below is an example of the Gameweek 37 Tips article sent by LazyFPL. Enjoy!
---
Gameweek 37 Summary:
⏰ Double Gameweek 37's deadline is Saturday 20th May, 11:00 BST.
😍 Chelsea, Man United, Man City and Chelsea will double.
⛔ Ivan Toney BANNED for 8 months.
⬇️ Southampton relegated.
💪 Marcus Rashford back in training.
Stick around for the double gameweek differential that your rivals definitely don't own.
---
Alright?
I'm a little short on time today, but if writing this newsletter for 14 months has taught me anything, it's that sometimes less is more. That's why this newsletter was started in the first place.
Let's look at Double Gameweek 37: the penultimate week. This is likely your last chance to significantly alter your FPL fortunes.
Forget everything you thought you knew about FPL: the rulebook hasn't just been thrown out, it's been shredded, soaked and sculpted into a tiny statue of Pep Guardiola laughing at your attempts to pick three City players who will play twice.
Let's get cracking.
It's a Double Gameweek
Gameweek 37 is a double. You knew that already, but still, here's another reminder.
Man City, Man United, Chelsea and Brighton (of course) will play twice. Personally, I can't remember the last time Brighton didn't play twice, but it was probably around the time I owned Miguel Almiron and still thought football was coming home.
Man City – Chelsea (H), Brighton (A)
Man United – Bournemouth (A), Chelsea (H)
Chelsea – Man City (A), Man United (A)
Brighton – Southampton (H), Man City (H)
For those who prefer it in image format: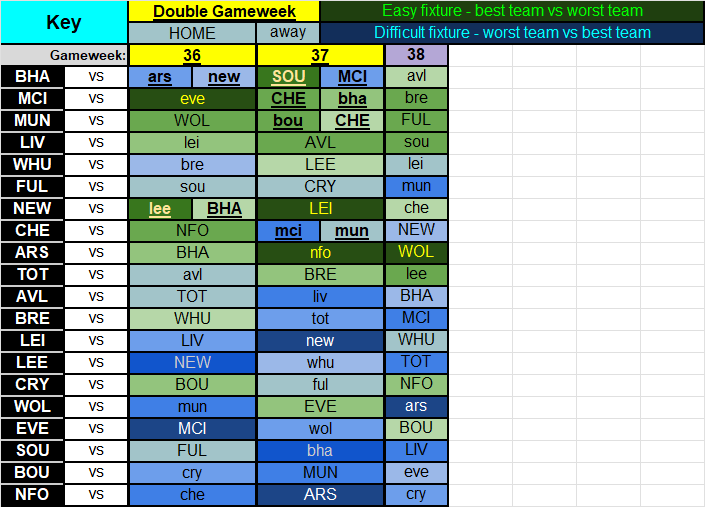 The moves to make ahead of Gameweek 37
With four doubling teams to pick from, it's likely most FPL squads will have 8-9 doubling assets ahead of Double Gameweek 37. Those will consist predominantly of Man City (2-3 players), Brighton (3 players) and Man United (3 players), with perhaps a few Chelsea picks sprinkled amongst the fruitier teams.
If you're chasing rank, there are three main needle-movers to explore that diverge from the template. They are:
1) Pick a captain whose name isn't Haaland
2) Bet big on Chelsea players
3) Pick the Man City, Man United and Brighton players that others aren't
Health warning: doing any of the above will probably result in a red arrow. Otherwise everyone would be doing them. High risk, high reward.
Doing all of the above – as some people will – is the fantasy equivalent of investing your life savings into a cryptocoin recommended by that bloke you know who's seen every film before it's been released in cinemas.
It could be season-defining, but it'll probably be disastrous.
Still, let's look at the merits of each.
Who To Captain in Gameweek 37?
If you're not going for Haaland, a Man United player is probably a good alternative.
Bruno Fernandes will be the second-most popular pick, in part owing to the fact that Marcus Rashford is still a doubt. If we get confirmation that Rashford – who has returned to training – is available for DGW37, he might usurp Fernandes as the most popular unpopular captain.
Both are good options. Fernandes has only notched two assists and a goal since Gameweek 28, but has been involved in 15 big chance involvements. Many believe he's due a haul. You don't need me to tell you why Rashford is still capable of producing impressive returns across two games.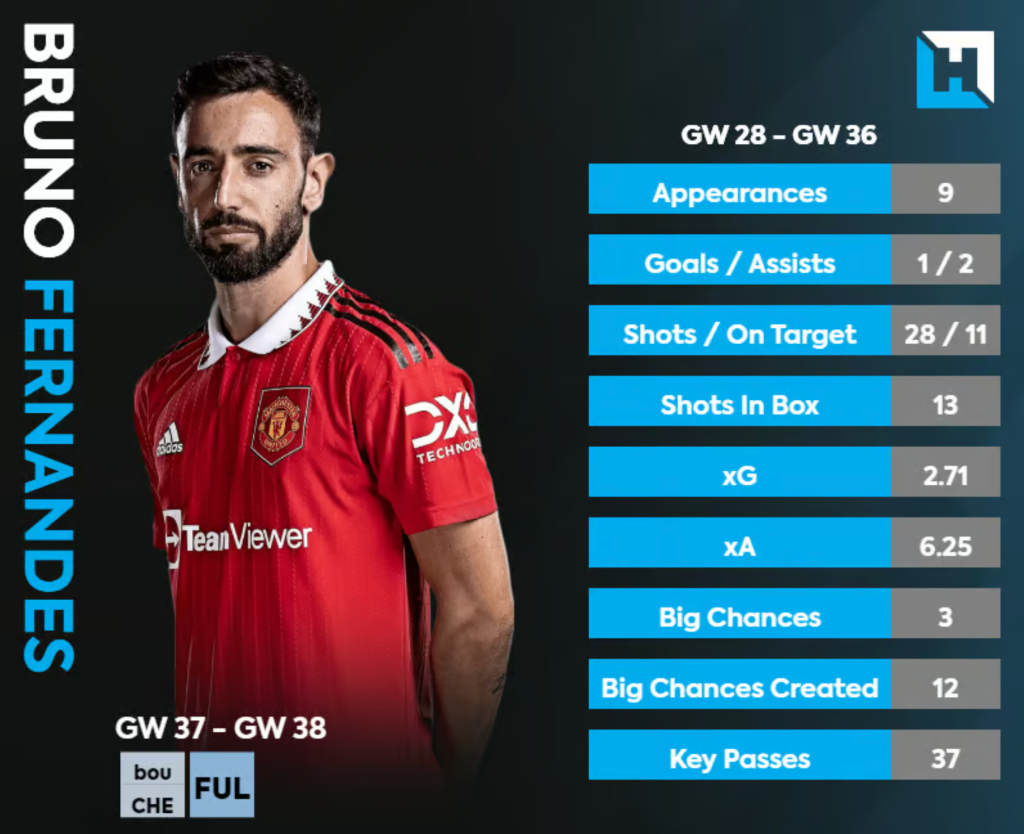 Man United also have fixtures on their side. Bournemouth (A) and Chelsea (H) is probably the best combination of fixtures for any of the four doubling teams.
Outside of Man United, some rogue managers might be tempted by a different Man City player but, with Guardiola's men still on course for the treble, it's not obvious who he'll pick for DGW37. Even Ederson, previously thought to be the only unrestable player in that squad, was rested a few gameweeks back.
Our top three City picks are Haaland, Mahrez and Foden but it's the in-form Ilkay Gundogan who's currently the most transferred in. Just know that buying a Man City player is sort of like buying a lottery ticket: it could be a total waste of money but you might just hit the jackpot.
Who To Pick Gameweek 37
Here's a handy guide to picking differentials within teams that everyone is investing in.
Brighton
Template – Mac Allister, Mitoma, Estupinan, Steele
Differential – Undav, Welbeck, Gross, Webster
Man United
Template – Rashford, Fernandes, Shaw
Differential – Anthony, De Gea, Lindelof
Man City
Template – Haaland, Gundogan, Ederson
Differential – Mahrez, Foden, Alvarez, Akanji
The Best Captain for Gameweek 37
Yup, it's this boy. When Haaland has a double gameweek, you don't ignore him unless you really have to.
Do relegation-threatened teams play better?
Yes. We sort of already knew this on an instinctive level, but according to the official blog of Harvard's sports analysis department, it's reinforced by "strong evidence". Read that article here.
Incidentally, teams that have already been relegated – like Southampton, for example – tend to play better according to this article from the Guardian.
In terms of FPL, it's hard to really factor these phenomenons (phenomeni?) into our decision making. I like to pretend that each team either fighting for survival or consigned to relegation has just picked up a few excellent players in the transfer window. Yes they may be a slightly better team, but they're still, fundamentally, the same group of players they were before they were so invigorated.
Continue to avoid buying their players, but consider it when investing in the teams who still have to play them.
The key stats for Gameweek 37
Have a gander at the key stats going into Double Gameweek 37:

Betting big on Chelsea players
Chelsea have two fixtures this gameweeks, which means, even though their fixtures are about as tough as it gets (Man City and Man United), there's still the potential for points hauls.
The reason top managers aren't investing aggressively in them is because they're struggling for form and they're playing two top teams. Their record against the league's top teams this season has been remarkably poor – in fact, they're yet to win a single game against Man City, Arsenal, Man United, Newcastle, Liverpool or Spurs.
All we can do is warn you. Like a teenager intent on lighting their first cigarette, perhaps you'll ignore our warnings and do it anyway. If that's the case, please do it responsibly: pick players that have a chance at doing something. Thiago Silva and Raheem Sterling look the most promising.
The Professor's Team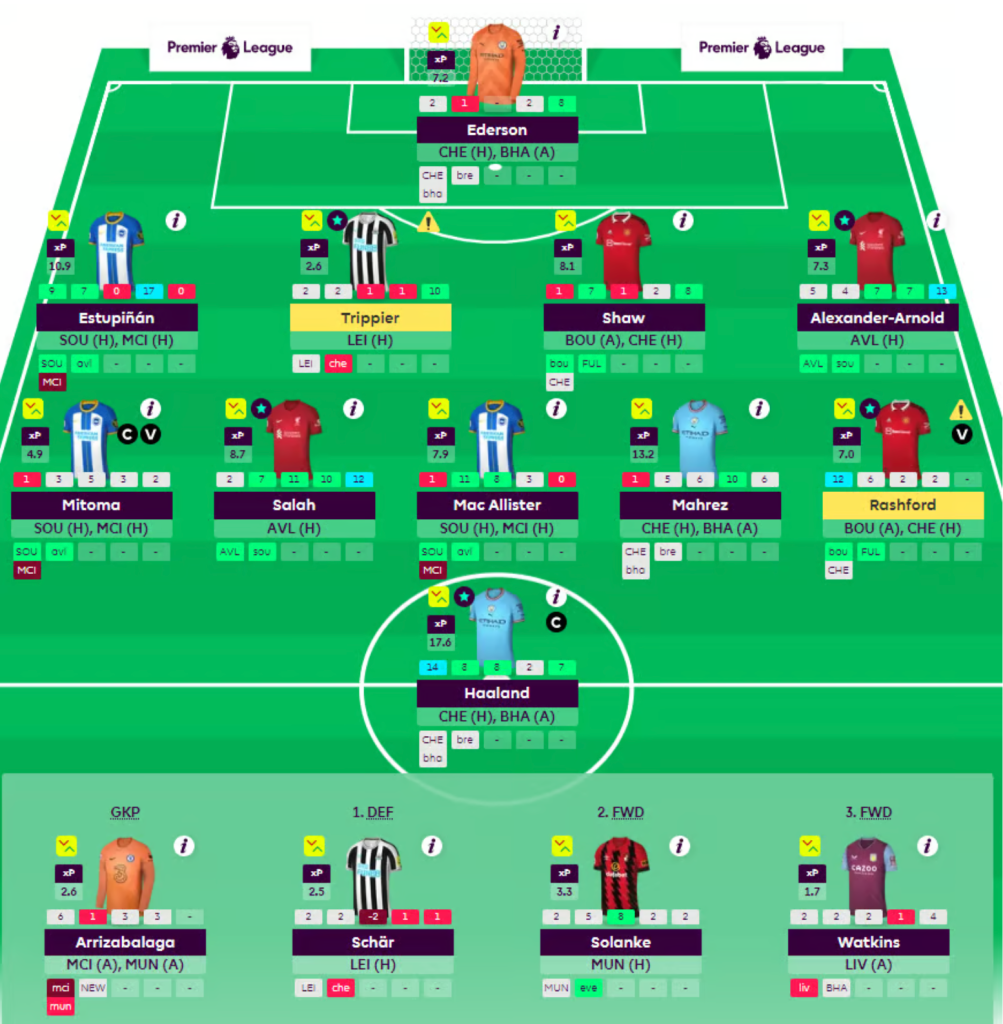 Captain: Haaland
OR: 15,924
Transfers: Wilson → Greenwood & Mahrez → Fernandes
Watkins down to fodder so I can afford to have some fun in GW38. I'm thinking a Brighton mid to Trossard but I'm getting ahead of myself. GW37 to get through first.
Bruno is a must. His data is a joke and he's nailed for both of United's fixtures:

And I know Mahrez has that game to game ceiling and transferring a doubler out doesn't seem to make sense but given City's fixture congestion, I'm terrified he only plays one:
Chelsea (H)
2 days off
Brighton (A)
Other tidbits
📣 Marcus Rashford is back in training. We use @ColmVHayes to stay in the loop on press conferences.
⬇️ Southampton are relegated. Coventry and Luton will battle it out at Wembley next Saturday to determine who will be the third and final promoted team.
🤦 Ivan Toney has been banned for 8 months over betting offences, effectively immediately. The FA are, reportedly, blocking any appeals.
Okay, we're out. We'll be back next Saturday ahead of the end of season bonanza.
Good luck for this gameweek – even if luck is just a man-made construct to make us feel better about our shitty decisions.
The LazyFPL team.
---
Don't miss out on this FREE newsletter every FPL gameweek!