The Premier League has released the Fixture List for all 380 matches of the 2023-24 campaign. Whilst certain players in your fantasy team will be set-and-forget, the others will largely depend on who has the best opening fixtures in FPL 2023-24.
You've probably seen a million of these FPL fixture difficulty trackers by now. A lot of them surprisingly just highlight the best teams in green and the worst teams in red. But we're not about that… and we support the colourblind, so we use blue instead of red!
Our FPL fixture tickers are divided into defence and attack, because (using last season as an example) whilst teams like Tottenham had no problem scoring, they did have problems conceding – and the same in reverse for Man United.
The colours used in our tables aren't just assigned at random by us. We have used last season's team xG and xGA to determine the fixture difficulty for FPL 2023-24. Whilst this doesn't factor in new signings, managerial appointments, etc, it at least doesn't contain any bias.
Free FPL Newsletter
If we could only give you 1 piece of advice ahead of Gameweek 2 it would be to subscribe to Lazy FPL. They condense hours of expert Fantasy Premier League research into a 4-min email sent 24 hours before every gameweek deadline.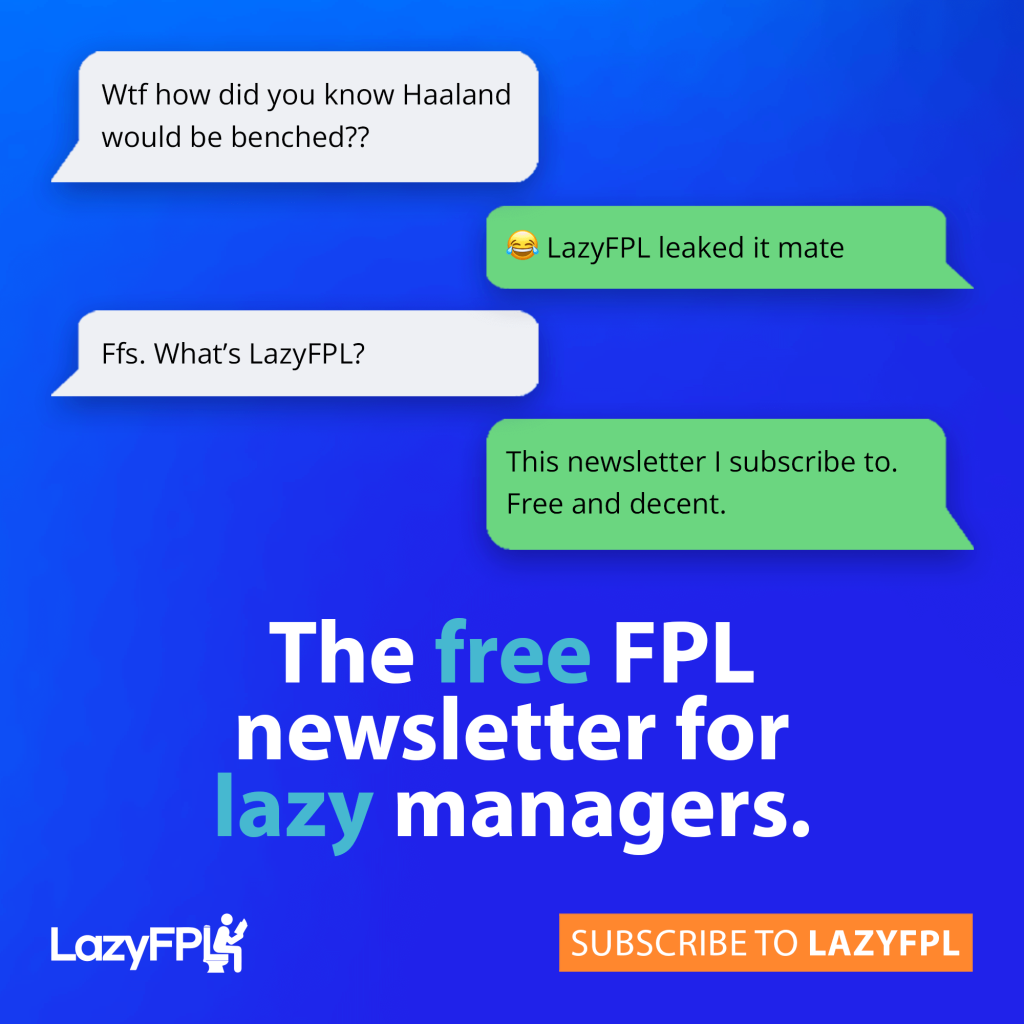 Best Defensive Fixtures in FPL 2023-24
The defensive fixture difficulty has been determined by multiplying the teams xGA with the opposing teams xG.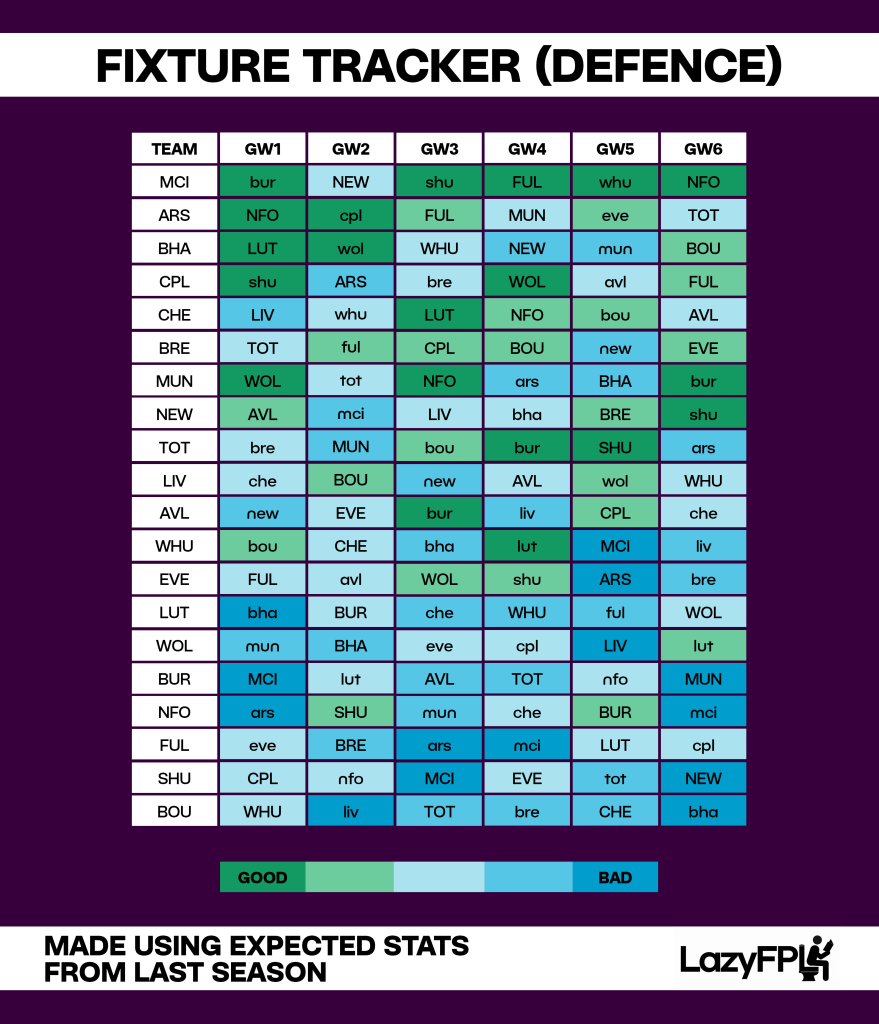 Manchester City have best opening fixtures in FPL, facing two of the newly promoted teams (Burnley & Sheffield United) in the first three weeks.
Arsenal and Brighton have the pick of the bunch when it comes to the opening two fixtures. Arsenal take on Nottingham Forest and Crystal Palace, whilst Brighton host newly promoted Luton Town before travelling to Wolves.
Crystal Palace are the surprise candidates, after ending last season with the 7th best xGA in the league with (51.63). This has boosted their clean sheet probability against new-boys Sheffield United and Wolves who had the lowest xG last season with 35.01.
Man United have three plum fixtures sandwiched between three less desirable ones in their opening six. If they have a cheap option at the back, they'll likely be used in rotation to navigate this period.
Liverpool, Tottenham & Chelsea all appear mid-table in our FPL fixture difficulty ticker, this is due to their unconvincing defensive displays last campaign.
READ MORE: Best 4.5m Defenders in FPL 2023-24
Best Attacking Fixtures in FPL 2023-24
The attacking fixture difficulty has been determined by multiplying the teams xG with the opposing teams xGA.
Man City, Arsenal, Liverpool & Man United are the obvious candidates and occupy the top of the attacking fixture tracker. For the most part, I don't think it's really that useful to discuss these clubs purely in terms of fixture difficulty, as they possess players that are fixture proof.
Instead, I think the attacking tracker is best used to identify a good budget midfielder or third striker from a lesser club, that rotates well with your other players.
If Brighton and Brentford players haven't rocketed in price after last season, they're definitely worth a look in. Brighton's opening six looks especially pleasing.
In contrast, Chelsea after their poor season, potentially rejuvenated under Mauricio Pochettino, have a pleasant start if we ignore their opener to Liverpool.
Elsewhere, Aston Villa & Everton have a couple of decent fixtures each in their opening six, both of which are facing a newly promoted side.
READ MORE: Best 6.5m Midfielders In FPL 2023-24